Latest
Industry is this year averaging US$10 billion per month in investments to expand colocation facilities across the globe.
Founder and Editor, The Tech Capital
April 30, 2021 | 3:09 PM BST
The data centre investment boom shows no signs of stopping, with the industry set to break records once more and top more than $100 billion this year, should current trends continue.
Committed investment in the data centre infrastructure sector reached an estimated $20.3 billion in April, according to the latest research from Headwind Consultants.
Analysts have pointed out that committed investment so far this year is averaging more than $10 billion per month.
"The most significant singular investment in dollar terms at $4.2 billion is the Pioneer Point Partners/Davidson Kempner scheme announced for a large-scale data centre campus in Portugal by 2025 and first mover on a strategically important site for transatlantic cables such as Ellalink, which connects Europe to South America," researchers said.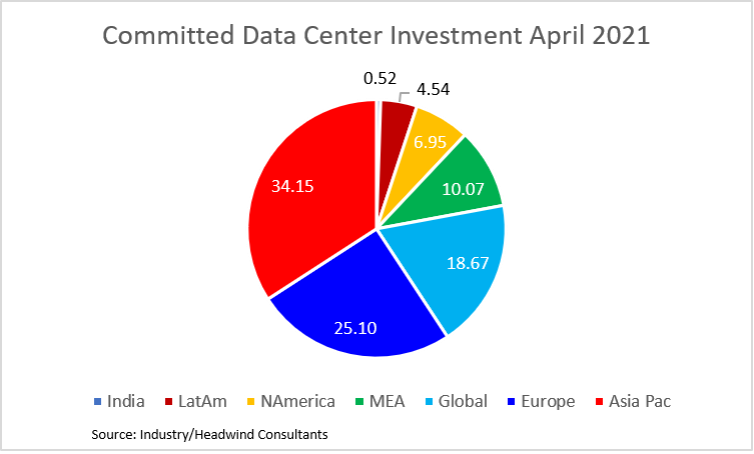 The campus is to be located in the port city of Sines, 150 km (93 miles) south of the capital Lisbon and will include five buildings with a capacity to supply up to 450 megawatts of energy from renewable sources. The Portuguese government plans to install a green hydrogen production hub at the location.
Another significant milestone in April was achieved by IPI Partners, LLC (IPI), a global investment platform focused exclusively on data centres and other technology and connectivity-related real assets, who closed its second fund at $3.8 billion. IPI is co-sponsored by ICONIQ Capital, LLC and an affiliate of Iron Point Partners, LLC.
Over the last four and a half years, IPI has built a privately held data centre portfolio with 480 megawatts (MW) leased and capacity for more than 880 MW. The company most recently closed the acquisition of SUPERNAP Italia, a Milan-based data centre platform.
Market entry by logistics firm ESR of Hong Kong reveals the level of appetite for data centres remains extremely high and is extending beyond private equity players. The company has acquired an existing data centre, land and build plans to build 2 additional facilities providing a total of 79MW for $2.15 billion.
The past month also recorded plans for massive commitments to sustained data centre expansion expressed by both Microsoft and Apple.
According to research by Headwind Consultants, Asia Pacific attracted the highest investment in April at 34% with notable expansion planned by Microsoft in Malaysia and the CapitaLand acquisition of four data centres in China, followed by Europe at 25%.
Listen to this article
Keywords