Latest
Potential M&A follows on from CyrusOne exploring strategic alternatives under which a potential sale as 2022 lines up to continue the heavy M&A consolidation trends of hard data centre assets.
Founder and Editor, The Tech Capital
November 09, 2021 | 8:59 PM GMT
US data centre operator CoreSite Realty Corporation (NYSE:COR), whose enterprise value is currently US$8.76 billion, is reportedly working with an investment bank to explore sale options.
According to sources speaking to Reuters, talks were initiated after the real estate investment trust (REIT) was approached by different parties including American Tower Corp (NYSE: AMT), Digital Realty Trust Corp (NYSE: DLR), and private equity firms, who are said to have expressed an interest in acquiring the business.
The people familiar with the matter said there is no guarantee a deal will come out of the talks.
The Tech Capital has reached out to CoreSite, American Tower and Digital Realty for comment on this story.
---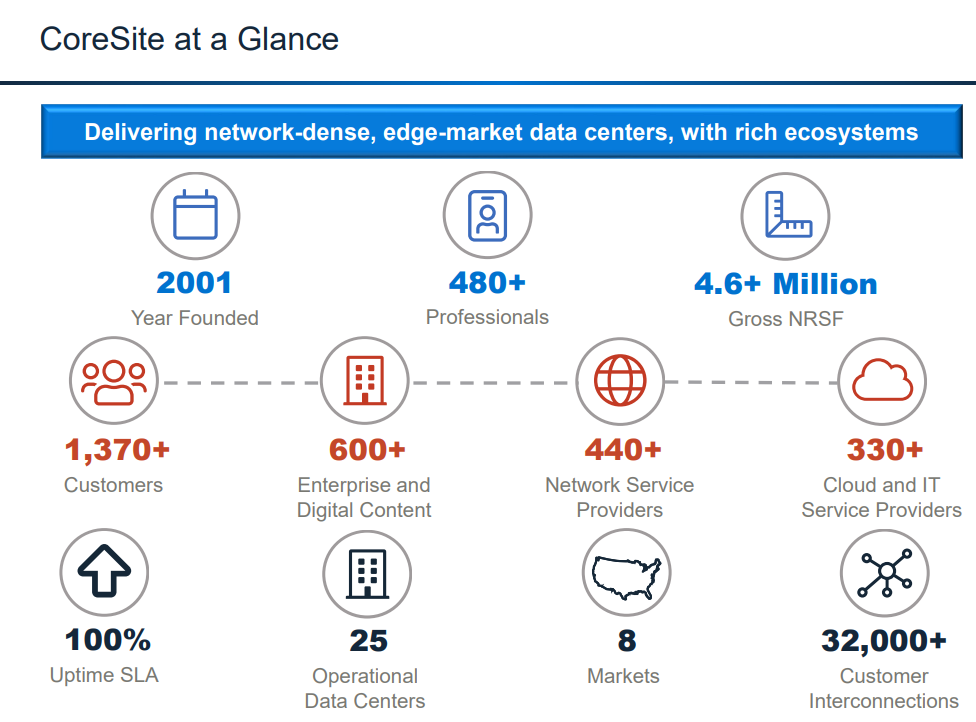 ---
The sources have not indicated if the deal would cover the whole of CoreSite's portfolio of 25 North American properties comprising 4.6 million square feet or if the assets would be split into two or more transactions.
The facilities are located in Boston, Chicago, Denver, Los Angeles, Miami, New York, Northern Virginia, Silicon Valley and Washington DC. CoreSite owns approximately 93% of the net rentable square feet comprising its data centers
The provider, which was founded in 2001, had at the end of the quarter 1,370 customers of which 600 operate within the enterprise and digital content sectors.
---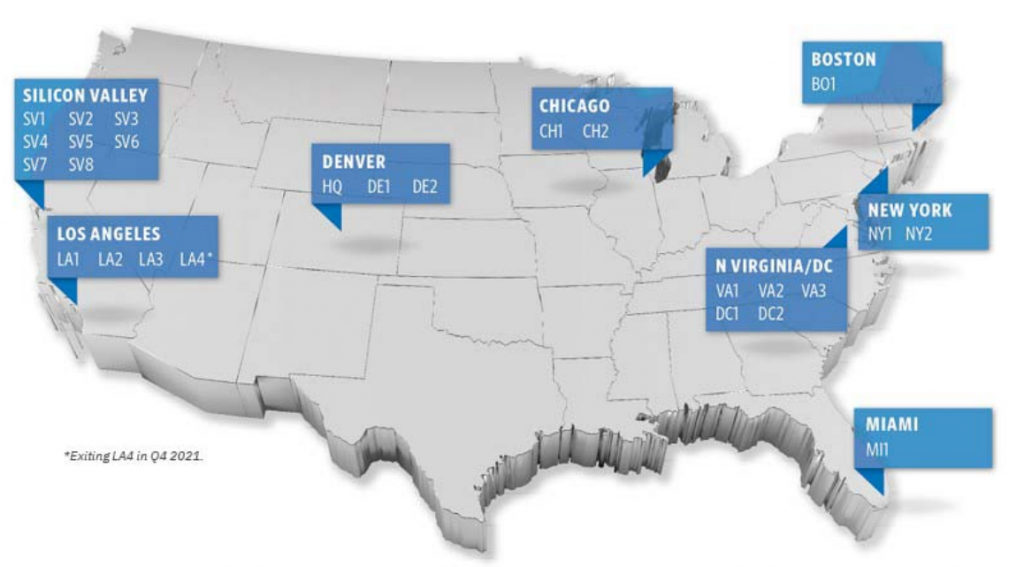 ---
Its top 10 clients, which represent 40.5% of revenues, include three public cloud operators, one digital content operator, a global services provider, one software as a service business, a US national service provider, a cable service provider, a network service provider and an SI & MSP company.
CoreSite reported its Q3 2021 financial results on October 28, with operating revenues reaching $163.9 million, an increase of 6.4% year over year and 1.1% sequentially. The company grew adjusted EBITDA to $85.7 million, an increase of 5.2% year over year and a decrease of 2.0% sequentially and generated Funds from Operations (FFO) of $1.39 per diluted share and unit, an increase of $0.06, or 4.5% year over year, and a decrease of $0.03, or 2.1% sequentially.
The operator has also updated its 2021 guidance related to total operating revenues for the full year to $645-$653 million, versus $606.8 million in 2020, a potential 7% year-on-year growth. Net income is also set to grow at a 4.6% rate, from $94.6 million last year, to around $99 million by December 31, 2021.
---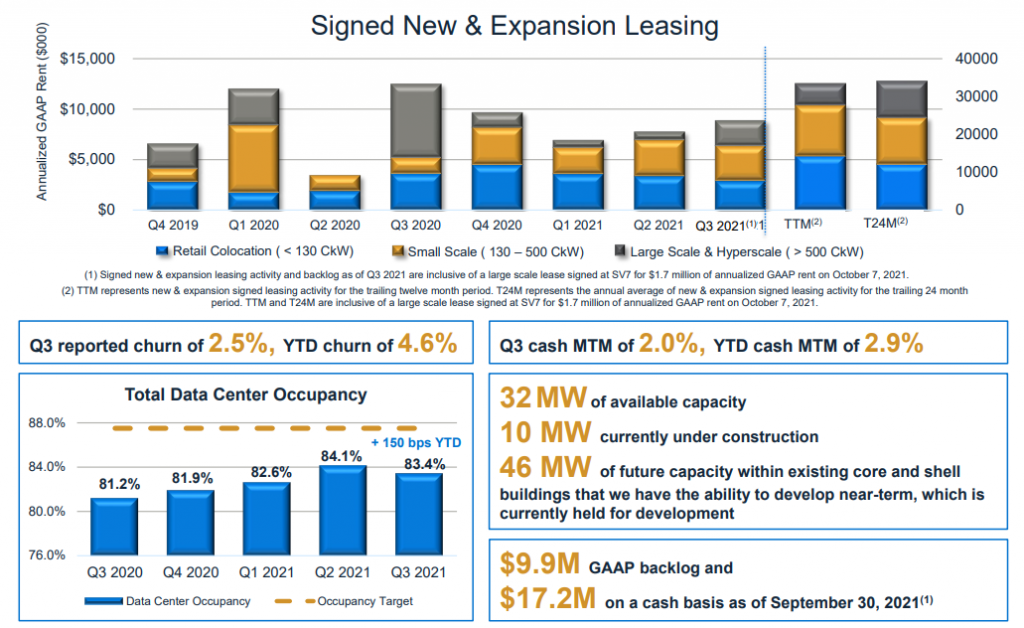 ---
A deal long in the making
Rumours of CoreSite's potential business sale are not new. Before being acquired by Digital Realty in 2020 for $8.4 billion, Interxion was said to be considering a potential acquisition of CoreSite's assets.
According to Stifel analyst Erik Rasmussen, CoreSite's network-dense assets across key markets are "some of the most desirable in North America", which could drive a bid from a strategic or PE, "sooner rather than later".
Rasmussen said last June that CoreSite's assets should command a premium and the company could see $154-$170 in an acquisition.
Shares of the business were up 3.50% on the back of the sale exploration and stand at $163.04 at the time of writing, up from $118.15 a year ago. Market capitalisation has reached $7.2 billion.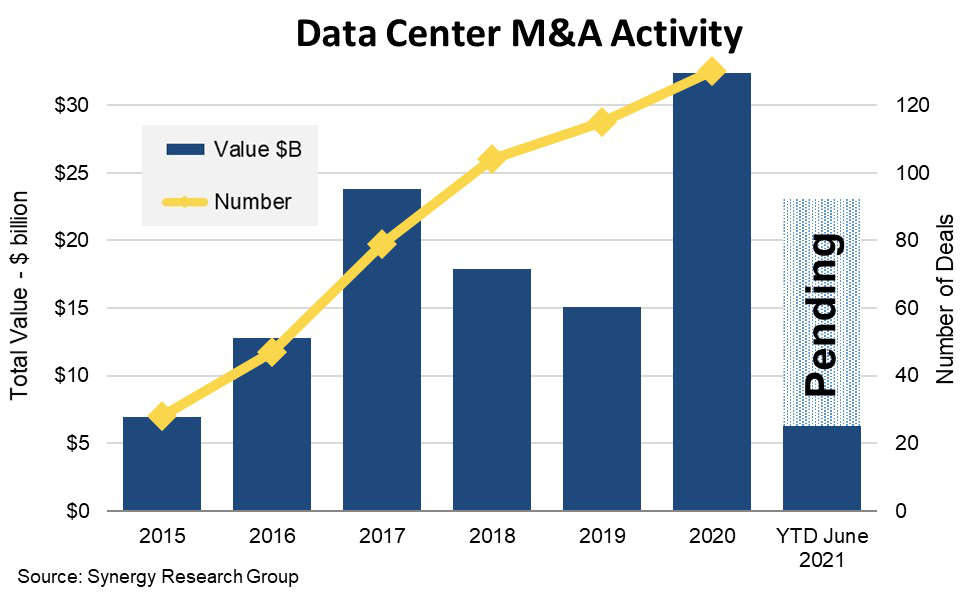 A merger of CoreSite's assets into Digital Realty's North American footprint would make Digital Realty the leading retail colocation player in North America, ahead of the world's most valuable data centre business, Equinix (NASDAQ: EQIX).
As for cell tower REIT American Tower, the 25 buildings would be a much-welcomed boost to the portfolio as the company begins to heavily invest in its data centre footprint.
To date, American Tower operators six edge data centre sites, each comprising about 320 sqft and 20 customers. The company also runs a larger metro site in Atlanta with 62,000 sqft and 6MW of IT load.
Both Digital Realty and American Tower have invested billions of dollars in digital infrastructure acquisitions in North America and overseas.
On the private equity front, investors have stormed the hosting space with several strategic investments and acquisitions in recent years.
The flagship deal that saw Blacksotne scope data centre REIT QTS Realty Trust (NYSE: QTS) at $10 billion not only made it one of the highest M&As by a PE firm but also one of the most expensive transactions in the sector.
The North American data centre REIT market is hotting up, with CoreSite's potential sale news following on from CyrusOne Inc (NASDAQ: CONE) reports that the company is considering a stock sale as pressure mounts on slower than expected financial performance and high boardroom turnover.
Listen to this article
Keywords