Latest
Minister hails "great day for French and EU tech sovereignty", but it remains to be seen if the IPO will be enough to ease more investors into the wider European tech scene.
Founder and Editor, The Tech Capital
October 15, 2021 | 4:50 PM BST
Europe's largest cloud provider OVH Groupe (OVHcloud) (EPA: OVH) has debuted on the Euronext Paris stock exchange in what is one of the largest French IPOs of the year as investors continue to back tech businesses.
With an offering price of €18.50 (US$21.46) per share, the company's market value reached approximately €3.5 billion ($4.06 billion) at the start of trading.
OVHcloud shares climbed 8.64% during the day, reaching a record of €20.10 ($23.32) at 2:50pm CEST with French and international institutional investors grabbing up stock. The price increase came after shares dipped below the original offer pricing in early trading to €17.97 ($20.85). The stock closed at €19.4 ($22.51) with a market capitalisation of €3.715 billion ($4.31 billion) at bell ring.
Attending the "bell ceremony" in Paris, French technology minister Cedric O said: "It is a great day for French and European tech sovereignty. We want to make champions here."
As part of the IPO, 21,621,621 shares have been issued, including 3,600,000 allocated in the French Public Offering, representing approximately 17% of the initial size of the IPO, and 18,021,621 shares in the International Offering, representing approximately 83%.
The company raised f approximately €400 million, which may be increased up to approximately €460 million in case of full exercise of the over-allotment option whereby underwriters may purchase a maximum of 3,243,244 additional existing shares from KKR and TowerBrook Capital Partners.
---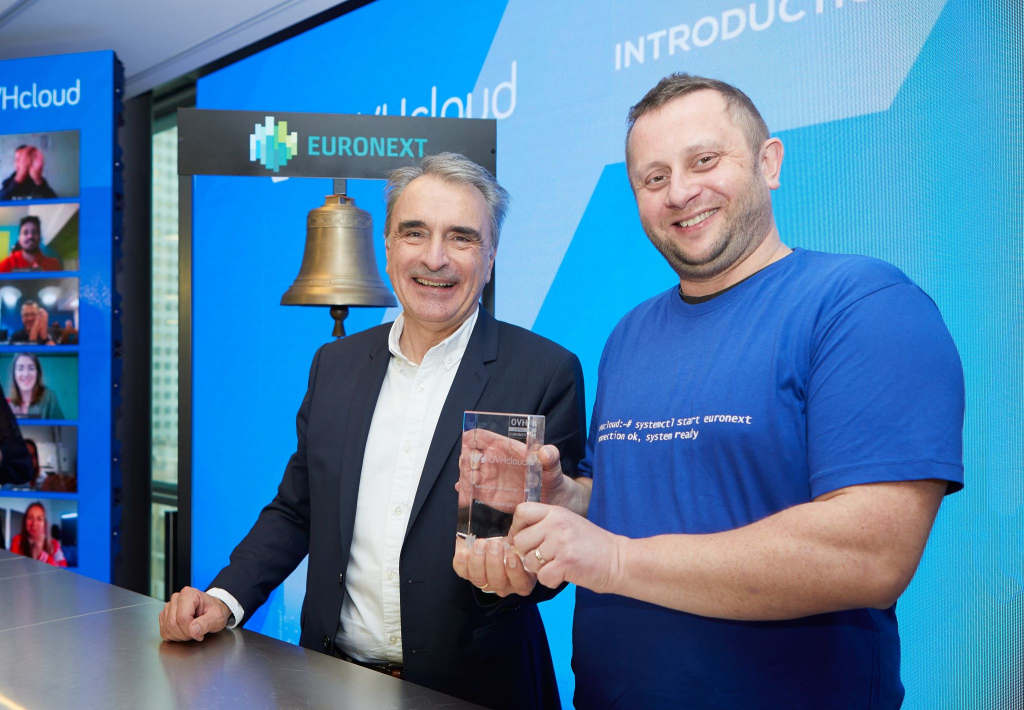 ---
Speaking on the IPO, Michel Paulin, CEO of OVHcloud, said: "The successful IPO of OVHcloud kicks off a new phase of development for our company. This operation provides us with additional resources to accelerate our growth and strengthen our position as a European champion and
pure player in the cloud, while supporting our international expansion and by reinforcing the relationships of trust that we maintain with our stakeholders.
Web, dedicated, and cloud hosting solutions provider OVHcloud was founded in 1999 in one of France's poorest cities, Roubaix, by Octave Klaba who serves as chairman.
The company has raised over €650 million ($754 million) in debt equity over the years from investors including JP Morgan Chase, Kohlberg Kravis Roberts, TowerBrook Capital Partners, Banque Commerciale du Marché Nord Europe, and CIC Nord Ouest.
Today, the French unicorn operates over 400,000 servers within 33 data centres across four continents servicing 1.6 million customers in more than 140 countries.
In a joint letter to customers and shareholders, chairman Klaba and CEO Paulin dubbed the IPO on Euronext Paris as a turning point on the company's history with the team ready to "kick-start a new phase of accelerated growth".
Part of the future growth lies in expanding the company's reach and infrastructure, especially in the Americas and Asia.
The two executives wrote: "The digital world around us is changing at an exponential rate. Data is everywhere and is reimagining how businesses, governments, and communities live, work and connect.
"Studies show that the global cloud market has been growing at a compound annual rate of over 20% since 2017, and its growth rate is expected to accelerate. In parallel, we also see a surging demand for data sovereignty as European regulation and public opinion pressure companies to guarantee the use and protection of personal data.
"This digital shift presents a tremendous opportunity to build an open, trusted and sustainable cloud.
"At OVHcloud, we believe that open ecosystems and standards foster innovation, keep decision-makers, entrepreneurs and users in control of their data, and provide customers with the freedom to choose. With these values at the core of our business model, OVHcloud is ideally positioned to meet this growing demand for secure and trusted cloud solutions."
---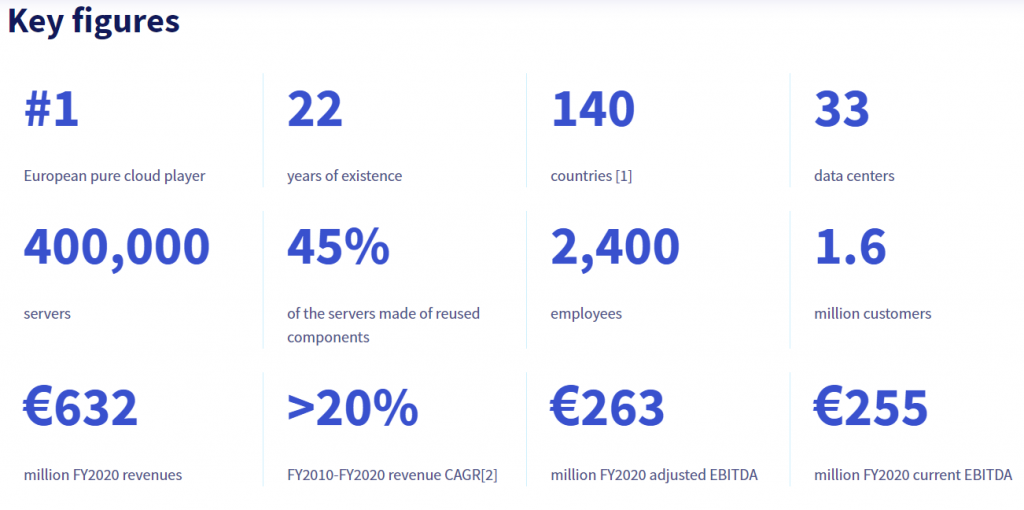 ---
With approximately 2,400 employees, OVHcloud revenues for FY2020 were €632 million ($733.2 million), adjusted EBITDA was €263 million ($305.11 million), and current EBITDA was €255 million ($295.83 million). Sales outside France represented circa. 50% of total sales in FY2020.
The business is set to post its first post-IPO results for the financial year ended August 31, 2021, on November 16, 2021.
The pre-IPO shareholding structure of OVHcloud was as follow:
76% of share capital (approx. 79% of the voting rights) belonged to the Klaba family;
10% of the share capital (approx. 8.5% of the voting rights) was owned by KKR;
Another 10% (approx. 8.5% of the voting rights) was under Towerbrook;
With the remaining 4% equally split between a group of managers and employees (current and former) and directors, and a group of "other parties".
BNP Paribas, Citigroup, JP Morgan and KKR Capital Markets are acting as joint global coordinators and joint bookrunners in the IPO.
Credit Suisse, Goldman Sachs, Morgan Stanley and Société Générale are acting as joint bookrunners, and CIC is acting as co-lead manager (together with the joint global coordinators and joint bookrunners and the joint bookrunners).
Rothschild & Co and Eight Advisory are acting as independent financial advisors, Cleary Gottlieb Steen & Hamilton LLP as legal advisor, Brunswick as financial communications advisor and Accellency as investor relations advisor to OVHcloud. White & Case LLP are acting as legal advisors to the Underwriters. Bain & Company assisted with strategic positioning and market studies.
Listen to this article
Keywords