Latest
Over 500 points of presence, 103,000 Km of fibre network, 14 Tier 3 data centres and three transatlantic cables form the portfolio serving 31 countries.
Founder and Editor, The Tech Capital
September 22, 2021 | 3:00 AM BST
I Squared Capital has launched EXA Infrastructure, a new digital infrastructure business built on the spin-off of GTT Communications' network infrastructure and data centre assets.
The launch comes as the private equity vehicle closed on the acquisition of GGT's portfolio for US$2.15 billion.
The infrastructure now operated by EXA largely results from GTT Communications' prior acquisitions of Interoute ($2.3 billion), Hibernia Networks ($590 million) and KPN International ($59 million).
EXA now serves customers across 103,000 route kilometres of fibre network that connects 300 edge and colocation facilities, including 14 EXA data centres in Europe and North America.
The fibre network includes dense metropolitan footprints, connected by multiple inter-city routes and a pan-continental subsea cable ecosystem of 17 routes.
EXA is headquartered in London, UK, and the business has 28 offices in 18 countries across Europe. Around 420 employees will move to EXA from GTT, which will continue to focus on its core cloud networking business.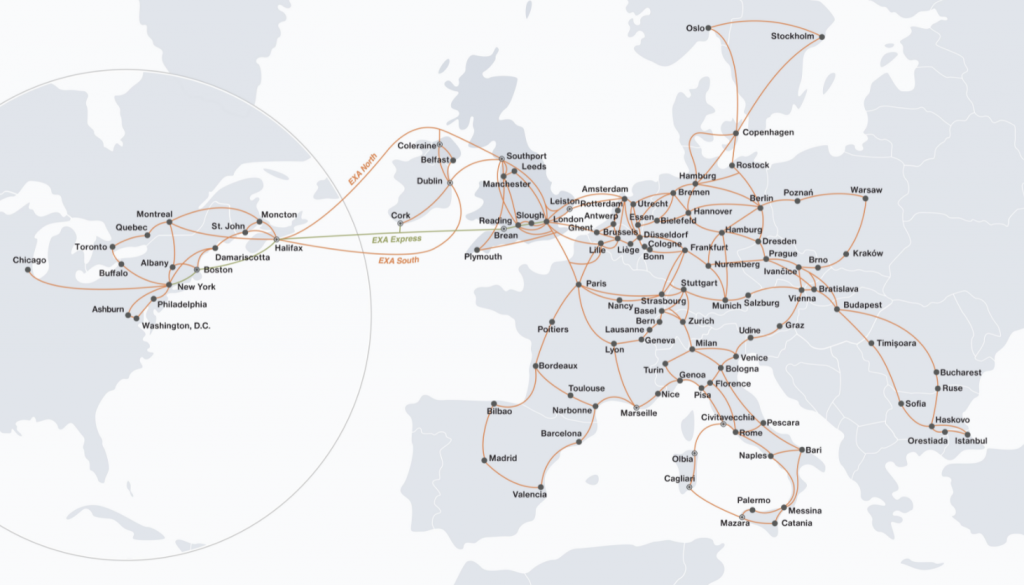 Gautam Bhandari, Managing Partner at I Squared Capital, said: "This is the second, complex carve-out of fibre and data centre assets from an integrated telecom company to an independent, carrier-neutral infrastructure platform that we have completed.
"Digital infrastructure will be a key component of global economic growth, especially in a post-Covid economy, and is a key pillar of our investment strategy. Combined with our recent transactions for Ezee Fiber in Texas and KIO Networks in Mexico, I Squared Capital has committed over $3 billion to digital infrastructure with over 120,000 route kilometres of fibre across the Americas, Europe and Asia."
EXA has also announced the appointment of Martijn Blanken as its chief executive. Blanken previously held various executive positions within Telstra Corporation, among others CEO of Telstra Global, and most recently served as Senior Advisor to I Squared Capital.
He said: "The creation of EXA, the way that we will serve our customers and our commitment to continual investment in our business is all down to one word: focus. We will have a relentless focus on the data-centre-to-data centre infrastructure services we provide, enabling our customers to provide the most compelling experiences to their clients and end-users.
"We are determined to become the undisputed leader in the digital infrastructure industry in the European, trans-Atlantic and North American market. In order to achieve that ambition, we will make material investments to expand our network footprint, in close collaboration with our customers, to meet the ever-growing need to carry data around key routes in the region.
Credit Suisse and Goldman Sachs served as GTT's financial advisors and Goodwin Procter LLP served as GTT's legal advisors on the transaction.
Ernie Ortega, GTT CEO, said: "This is a major milestone for GTT as we move away from infrastructure ownership and maintenance to deepen our focus on serving the global enterprise market with a full array of cloud networking and managed solutions that include SD-WAN, security, internet, voice and other vital telecommunication services that enable digital business.
"We have a great team of employees and a company culture that is responsive to the needs of our customers, coupled with an industry-leading internet backbone and a product roadmap aligned to trending market demand. I am confident that our sharper strategic focus will enable us to better serve our customers."
Listen to this article
Keywords