Latest
Investment takes company's CAPEX in Arizona to $50 billion, as the US loses ground on semiconductor manufacturing.
Founder and Editor, The Tech Capital
September 28, 2021 | 1:00 AM BST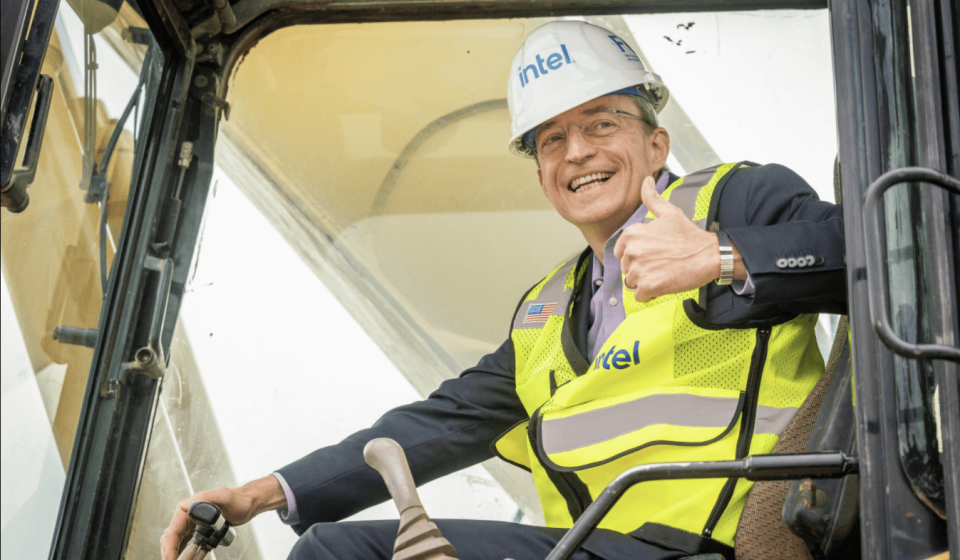 Intel CEO Pat Gelsinger signals to the crowd from earth-moving equipment in Chandler, Arizona, on Friday, Sept. 24, 2021, for a ground-breaking ceremony to celebrate the largest private-sector investment in Arizona's history. The construction of two new computer chip factories is a $20 billion project that will bolster U.S. semiconductor leadership and help bring geographical balance to the global supply chain. Source: Intel Corporation
Intel (Nasdaq: INTC) has begun construction of two new chip factories at the company's Ocotillo campus in Chandler, Arizona, in an attempt to aid the US gain its lost ground in semiconductor manufacturing and stopping the country falling farther behind
The investment is set to reach the US$20 billion mark, taking Intel's total Arizona investment to more than $50 billion.
Pat Gelsinger, Intel CEO, said: "Today's celebration marks an important milestone as we work to boost capacity and meet the incredible demand for semiconductors: the foundational technology for the digitization of everything. We are ushering in a new era of innovation – for Intel, for Arizona and for the world.
"This $20 billion expansion will bring our total investment in Arizona to more than $50 billion since opening the site over 40 years ago. As the only US-based leading-edge chipmaker, we are committed to building on this long-term investment and helping the United States regain semiconductor leadership."
With the addition of the two new factories – to be named Fab 52 and Fab 62 – Intel's Ocotillo campus will house a total of six fabs.
The new investment will create more than 3,000 high-tech, high-wage Intel jobs, 3,000 construction jobs, and support an estimated 15,000 additional indirect jobs in the local community. When fully operational in 2024, the new fabs will manufacture Intel's most advanced process technologies.
Arizona Gov. Doug Ducey, said: "For more than 40 years Intel has been at the centre of Arizona's innovation economy. Intel's latest expansion promises to further that legacy for decades to come while creating thousands of jobs cementing Arizona's position as a global leader for semiconductor manufacturing. We are grateful for Intel's continued investment in Arizona and can't wait to see these factories up and running."
Listen to this article
Keywords