Latest
News comes on the heels of the Saudi government's plans to invest as much as $18 billion in the construction of hyperscale data centre facilities across the country.
Founder and Editor, The Tech Capital
November 17, 2021 | 4:00 AM GMT
Saudi Arabia is pressing ahead with the development of its US$500 billion smart city Neom as Riyadh reveals the latest phase of the project.
To that extent, Crown Prince Mohammed bin Salman, who serves also as chairman of the NEOM Company Board of Directors, has announced the development of a giant floating industrial city that will house data centres, hydrogen power plants, construction factories, amongst others.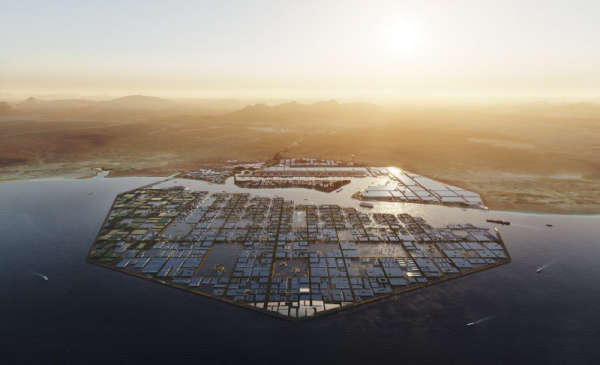 Named OXAGON, in referred to the octagon shape which gives the complex its distinctive layout, will be installed on the Red Sea close to the Suez Canal, through which approximately 13% of the globe's trade passes.
Developers describe the project as "one of the world's most technologically advanced logistics hubs with state-of-the-art integrated port and airport connectivity".
The "island" will house businesses from seven sectors including sustainable energy; autonomous mobility; water innovation; sustainable food production; health and well-being; technology and digital manufacturing (including telecommunications, space technology and robotics); and modern methods of construction.
OXAGON is set to house the Middle East's largest data centre project to be developed by FAS Energy and NEOM in a joint venture (JV) signed in October 2021.
Crown Prince Mohammed bin Salman said: "OXAGON will be the catalyst for economic growth and diversity in NEOM and the Kingdom, further meeting our ambitions under Vision 2030.
"OXAGON will contribute to redefining the world's approach to industrial development in the future, protecting the environment while creating jobs and growth for NEOM.
"It will contribute to Saudi Arabia's regional trade and commerce, and support creating a new focal point for global trade flows. I am pleased to see that business and development have started on the ground and we look forward to the city's rapid expansion."
Also commenting, NEOM CEO Nadhmi Al-Nasr, said: "Through OXAGON, there will be a fundamental shift in how the world views manufacturing centres. What encourages us is to see the enthusiasm of a number of our partners who have shown eagerness to start their projects in OXAGON.
"These pioneers of change will establish factories, developed with the latest technologies in artificial intelligence, to achieve a significant leap for this era into the Fourth Industrial Revolution. As with THE LINE, OXAGON will be a comprehensive cognitive city that provides exceptional livability for its residents."
OXAGON is the latest addition to the overall NEOM development with previously announced phases including The Line (a projected 170-kilometre (110 mi) long linear city set to have one million citizens), Neom Bay, Neom Bay Airport, Neom Industrial City, Neom International Airport, and a large plot of land 6,500 hectares, dedicated to agriculture practices.
Listen to this article
Keywords