Latest
Total incoming industry investment into subsea routes worldwide is forecasted to amount to US$8 billion over the next three years as 36 new cables are planned for deployment.
Founder and Editor, The Tech Capital
July 23, 2021 | 12:00 AM BST
Firstly, Zayo Group Holdings has announced the deployment of a new subsea cable route dubbed Zeus.
The cable will run parallel but diverse to Zayo's existing Circe North subsea route, directly connecting the UK to mainland Europe via Lowestoft, UK and Zandvoort, in the Netherlands.
Zeus represents a "substantial upgrade in capabilities", with a potential capacity of more than 4,000 TeraBytes per second (Tbps).
It will enable critical connectivity and next-generation technology within this corridor for carriers, hyperscalers and large enterprises.
The commencement of marine operations will begin in August of 2021 and is anticipated to be operational by the end of the first quarter of 2022.
Zayo said it is exploring additional new subsea routes to augment capacity on the Circe South route between the UK and France.
Jesper Aagaard, President of Zayo, Europe, said: "The deployment of the subsea Zeus route demonstrates our commitment to expanding our network footprint in Europe while also providing high-quality, essential connections for customers between key global markets.
"This investment will support the steep rise in global demand for bandwidth and capacity in data use and transfer across multiple sectors, primarily driven by a shift towards cloud services and the rapidly expanding number of networked devices and connections."
Elsewhere, earlier this week, Pacific Carriage, operator of the Southern Cross Cable Network in the US, an independent submarine capacity provider of connectivity from the USA to Australia, New Zealand and the Pacific, in collaboration with Pioneer Consulting, the full-service submarine fibre optic telecommunications consulting and project management company, have commenced the Los Angeles landing of the 15,857.8 km trans-Pacific Southern Cross NEXT (SX NEXT) submarine cable system that connects to Sydney and Auckland with branches linking Fiji, Tokelau, and Kiribati.
With overall project completion expected in early 2022, the $350 million Southern Cross NEXT cable will provide 72Tbit/s of capacity and will be the largest and lowest-latency submarine cable system ever built between Sydney and Los Angeles.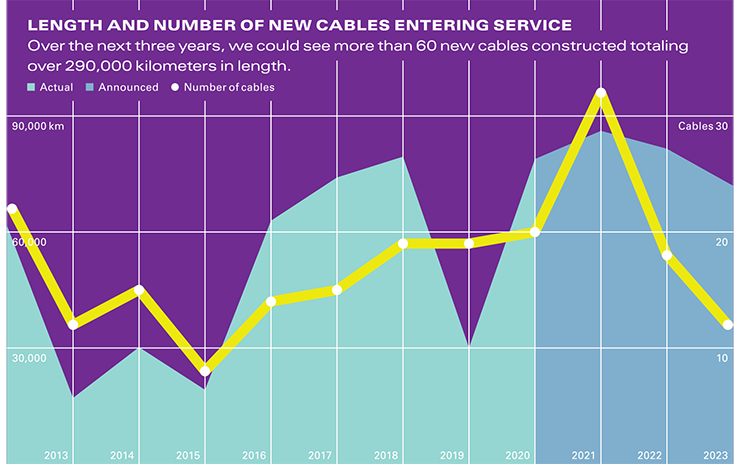 According to TeleGeography Research, there are over 1.3 million Km of subsea cables crossing the world's oceans contained into 464 systems, including 36 planned.
The research firm also projects a total incoming investment into subsea routes amounting to US$8 billion over the next three years, with the Intra-Asian route expected to experience the most investment, with a projected $1.6 billion in new cables to be launched.
TeleGeography Research Director Alan Mauldin, said: "Over the last decade, we have seen content providers emerge as disruptors, ramping up investments to meet global demand for their services. The submarine cable market has never been so dynamic."
Listen to this article
Keywords