Latest
Firm also shares update on current business conditions which has seen net sales projections for 3Q21 and FY21 revised to a lower valued than previous estimates.
Founder and Editor, The Tech Capital
September 10, 2021 | 1:02 PM BST
Digital infrastructure player Vertiv Holdings Co (NYSE: VRT) has entered into a definitive agreement to acquire E&I Engineering Ireland Limited and its affiliate, Powerbar Gulf LLC (E&I) for approximately US$1.8 billion in upfront consideration.
The deal could land an additional $200 million in cash, based on achieving certain 2022 profit milestones.
The upfront consideration consists of $1,170 million in cash and approximately $630 million of Vertiv common stock.
The transaction has been unanimously approved by Vertiv's Board of Directors and is expected to close in the fourth quarter of 2021, subject to customary closing conditions.
At the close of the transaction, Vertiv expects an adjusted net leverage ratio of about 3.4x net debt to adjusted EBITDA, which is expected to de-lever to approximately 2.3x by year-end 2022.
Founded in 1986 by Philip O'Doherty, E&I is a leading independent provider of electrical switchgear and power distribution systems, pioneering unique in-house integrated power solution designs and technology tailored to individual client project needs.
With annual sales of approximately $460 million (2021E) and 2,100 employees, E&I has a long heritage in the power distribution market and deep relationships with a blue-chip customer base in more than 30 countries.
E&I's products represent a critical system of the data centre power infrastructure and compete in an addressable market of about $7 billion, which is expected to grow 5% annually through 2025.
Rob Johnson, Vertiv's Chief Executive Officer, said: "The acquisition of E&I represents a key milestone in Vertiv's strategy, completing our portfolio of in-building power train offerings for data centres and vital commercial and industrial markets.
"The combination will amplify Vertiv's growth opportunities and profitability while enabling Vertiv to deliver differentiated solutions that manage a customer's entire power infrastructure as an integrated system. We look forward to adding E&I's highly skilled team members to the Vertiv family. Our companies share a strong culture of engineering excellence and innovation and a passion for serving our customers with differentiated products and service."
Dave Cote, Vertiv's Executive Chairman, added: " E&I represents a unique opportunity for Vertiv and it fits well in the Vertiv portfolio. I am excited about the potential of these two great businesses coming together as one."
Centerview Partners LLC is acting as lead financial advisor to Vertiv, and Baker McKenzie and Latham & Watkins provided legal counsel. Rothschild & Co is acting as sole financial advisor to E&I and Clifford Chance provided legal counsel. Committed financing to support the transaction is being provided by Citi, which also acted as a financial advisor to Vertiv.
Elsewhere, Vertiv has also provided an update on current business conditions which has seen net sales projections for 3Q21 and FY21 revised to a lower value than previously shared.
---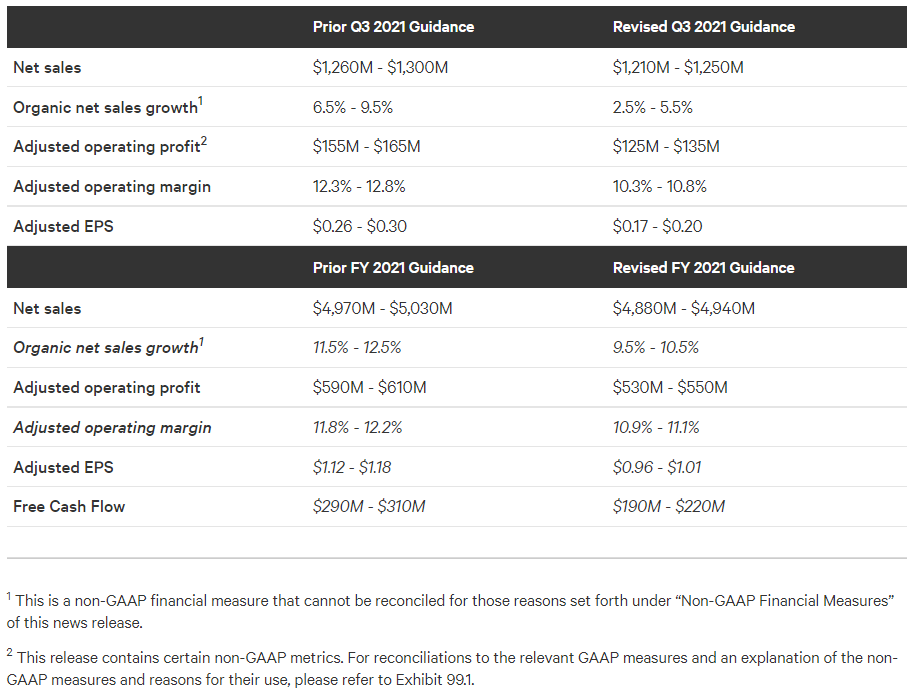 ---
The firm said in a statement: "Despite continued strong market demand, supply chain challenges described in our prior communications are trending worse than expected, with critical part shortages driving the need for additional spot buys.
"In some cases, the company cannot procure critical parts at any price, creating production and delivery challenges pressuring the top-line. Vertiv is taking actions to address these challenges, which are expected to continue through the first half of 2022."
Listen to this article
Keywords