Latest
Figure represents a considerable jump on previous year's first six months, with analysts admitting 2021 could top the $200 billion investment mark for the first time in history.
Founder and Editor, The Tech Capital
June 30, 2021 | 11:16 AM BST
Investment in the data centre sector which includes M&A, land acquisitions, data centre build and expansion, has exceeded a record US$100 billion during the first half of 2021.
According to research conducted by Headwind Consultants for The Tech Capital, global deals, where funds or investment is to be spread across a number of geographies reached a record 25% of the total and includes the landmark acquisition of QTS Realty Trust (NYSE: QTS) by Blackstone at $10 billion.
The USA still represented the leading country globally with more than $18 billion in transactions, analysts said.
Outside of the USA, the highest investment recorded for a single country is India. The country has evidenced data centre expansion over the last two years with substantial investments by local players Adani and Yotta, and market entry by overseas players including Colt and Bridge Data Centers.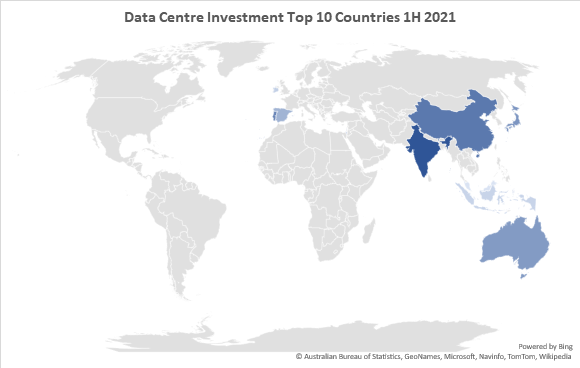 In Europe, Portugal has received the largest single-country investment of $4.2 billion with a new campus of five data centres planned in a first-mover deal by investment firms Davidson Kempner (US) and Pioneer Point Partners (UK) in the sea port town of Sines, 150km south of Lisbon.
With a government plan to install a green hydrogen production hub, researchers added that Sines is assuming a highly strategic location for the high-speed trans-Atlantic submarine cables traffic to and from other continents, such as EllaLink, which connects Europe to South America.
Following the formation of a joint venture between Starboard Value Acquisition Corp. (NASDAQ: SVAC) and Cyxtera Technologies covering a global platform of more than 60 facilities, Cyxtera's existing owners, including private-equity firms BC Partners and Medina Capital, plan to roll their equity stakes into the combined company. Once public, Cyxtera claims it will become the third-largest player in the retail colocation data centre space.
Perhaps surprisingly the results demonstrate that investment in Europe across the period were almost equal to those made in the Asia Pacific region lead by Portugal and Spain and China and Japan respectively.

Previous investment hotspots such as Singapore (where a pause in building permits has been imposed) and the Nordic region – which represented only around 4.5% of the European total -reveals the intensity of global competition among site locations.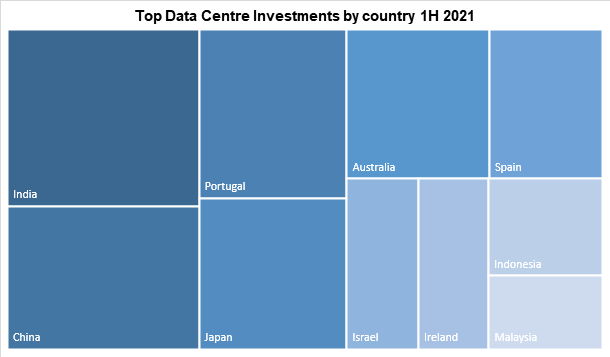 The main investments committed in the first half represented just over 40% of the total and featured 11 player groups, primarily equity funds acquiring data centre platforms, now regarded as a premium asset class.
In the context of previous years, the first half of 2021 represents a substantial jump which could still reflect in part hold-ups due to the pandemic.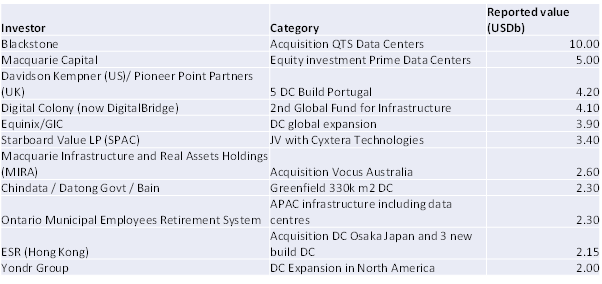 However, the total estimated committed investment for the first half is still more than three times that for the whole of 2020.
Speaking to The Tech Capital, Philip Low, managing director of Headwind Consultants, said: "The first half has demonstrated that data centres as an asset class have increased in value substantially.
"We hear reports of multiples of 20 to 30 times quoted across the sector, and while global demand has accelerated during the past twelve months, expansion in the sector has often been planned already and companies holding a strong platform of carbon neutral powered facilities stand to gain most from this value surge. It now remains to be seen if the second half will sustain this momentum."
Listen to this article
Keywords