Latest
The company has also launched its sustainability strategy built to improve the lives of millions of people across Africa through digital and financial inclusion and access to education.
Founder and Editor, The Tech Capital
October 29, 2021 | 1:34 PM BST
Telecom operator Airtel Africa plc (LSE: AAF) has posted record figures in its half-year report as the business continues to work on its tower portfolio.
The company posted revenue grew of 25.2% to US$2,272 million with double-digit growth across all regions including Nigeria up 32.4%, East Africa up 25.8% and Francophone Africa up 22.1%. Q2 reported revenue growth of 20.3%.
Underlying EBITDA grew by 35.2% to $1,098 million in reported currency and underlying EBITDA margin improved to 48.3%, an increase of 360 basis points led by both revenue growth and improved operational efficiencies.
Operating profit was up 55.1% to $732m in reported currency, and profit after tax more than doubled to $335 million, largely due to higher profit before tax which more than offset the associated increase in tax charges.
Operating free cash flow was $853 million, up 43.1%, and over the last 18 months, the business has upstreamed more than $570 million across its operating entities.
---
---
The board has declared an interim dividend of 2 cents per share (1.5 cents in H1'21) in line with an upgraded dividend policy.
The new policy aims to grow the dividend annually by a mid to high-single-digit percentage from a new base of 5 cents per share for FY 2022, with a continued focus to further strengthen the balance sheet.
Chief executive Segun Ogunsanya, said: "Our first-half financial performance has been strong. The first half of last year, and especially Q1, was impacted by the start of Covid, but even after adjusting for these effects, our revenue growth rates for the half-year for the Group and all our service segments are ahead of our FY'21 revenue growth trends, and in reported terms these are all in strong double digits.
"The risks from Covid still remain, with sub-Saharan Africa continuing to experience a third wave of the pandemic. Governments continue to implement balanced measures of lockdowns and restrictions accordingly. But vaccination levels remain low, and we continue to monitor the situation for potential impacts on economies and consumers."
Digital infrastructure deals
During the first half of the year, Airtel Africa closed on its $175 million sale of its Tanzanian tower business.
The transaction with global independent owner and operator of wireless communications infrastructure SBA Communications Corporation, which carried out the acquisition of the 1,400 towers in a joint venture (JV) with British wireless infrastructure developer Paradigm Infrastructure, saw the group's subsidiary Airtel Tanzania plc retain its ability to continue to develop, maintain and operate its equipment on the towers under a separate lease arrangement with the purchaser.
The deal followed independent telecommunications infrastructure company Helios Towers plc's acquisition and roll-out of 2,500 towers from Airtel Africa last March.
The agreement was signed to acquire Airtel's passive infrastructure operating companies in Madagascar and Malawi for a consideration of $108 million and enter into exclusive memorandum of understanding arrangements for the potential acquisition of its passive infrastructure assets in Chad and Gabon.
---
---
In its financial report, Airtel Africa says it is "continuing to pursue potential tower deals in Gabon and Chad".
Airtel owns today 4,562 towers across Africa and has another 22,189 leased locations.In total, including other tower infrastructure, the company operates from 26,751 towers, up 2,505 from a year ago. The revenue per site per month is currently at $14,444, 10.7% on last year's $13,043.
As for fibre infrastructure the group said it is looking at long-distance capacity sales opportunities and potential minority investments in fibre business. The operator is also in the process of building a corporate fibre for a new fibre company.
Airtel did not go into detail about its data centre business, but said it intends to "expand data centre services".
Sustainability Strategy
Together with the release of the results, Airtel Africa has also launched its sustainability strategy built to improve the lives of millions of people across Africa through digital and financial inclusion and access to education.
The strategy also includes goals around environmental protection and the ongoing development of a rewarding, diverse and inclusive workplace.
The strategy is delivered through four sustainability pillars: 'Our business' which reflects on operations and the expansion of the network, 'Our people' which sets commitments around employee engagement, development, diversity and inclusion, 'Our community' which details Airtel's dedication to improve access to education, and 'Our environment' which is focused on reducing the environmental impact of the group's operations.
---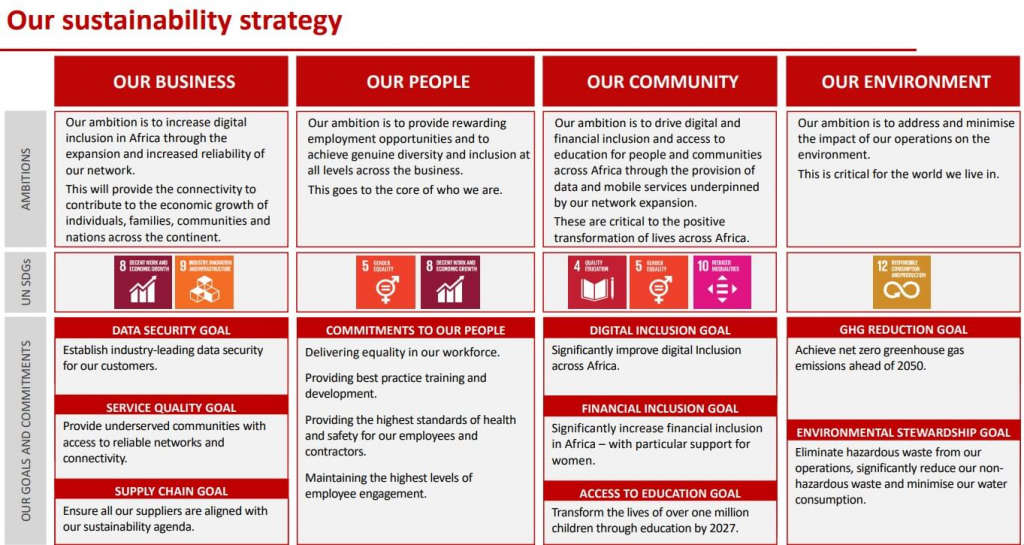 ---
The operator has also identified six of the United Nations Sustainable Development Goals to which it believes its work will make a "genuine and tangible contribution, including SDG 4: Quality education, SDG 5: Gender equality, SDG 8: Decent work and economic growth, SDG 9: Industry, innovation and infrastructure, SDG 10: Reduced inequalities, and SDG 12: Responsible consumption and production.
Ogunsanya said: "Our new strategy provides a solid foundation for us to accelerate change for the communities we serve and the environment in which we operate. We have worked closely with our stakeholders to ensure that this strategy is ambitious, robust and credible. This partnership approach underpins all the work we will deliver through our strategy.
"We will look to collaborate across the industry, recognising that by working together, we will be able to drive a more significant impact for the people who need it most. We are more committed than ever to ensuring open and honest communication on our progress as Airtel Africa embarks on its long journey towards a more sustainable future."
Listen to this article
Keywords