Latest
Space and power limitations could constrain new development, which may cause an increase in colocation asking rates and lead more developers to explore vertical construction of data centres.
Founder and Editor, The Tech Capital
December 20, 2021 | 6:30 AM GMT
As the world continues to power through the Covid-19 pandemic, supply chain constraints could continue to impact the US data centre sector in 2022.
In its pre-year real estate outlook, CBRE warns of impeding rental prices due to further disruption caused by the health crisis.
"Supply chain disruptions, notably from the continued global impacts of the pandemic on international trade, could impair data centre development and delay the delivery of new supply," it reads in the report.
"As uncertainty looms amid pandemic-related restrictions for markets outside of the U.S., particularly in Asia-Pacific, material shortages and increased shipping delays into U.S. ports have the potential to delay new facility developments and impact refresh cycles of data centres. These delays could drive up costs, potentially raising rents in affected markets 4%-6%."
The real estate house also adverts to potential power constraints in the new year, which could threaten new developments in some of the world's major data centre hotspots.
"Power requirements for data center occupiers will continue to grow, leading to larger lease deals and lower rents on a per kilowatt basis in 2022. Power constraints will remain the biggest threat to new developments in markets like Northern Virginia and Silicon Valley.
"ESG initiatives will also prompt providers to seek renewable and more efficient energy sources to power their centres."
The authors also advert that markets with limited land availability will begin to see more vertical construction of data centre space.
There will also be a continued premium in asking rates at highly connected, high-quality data centres.
---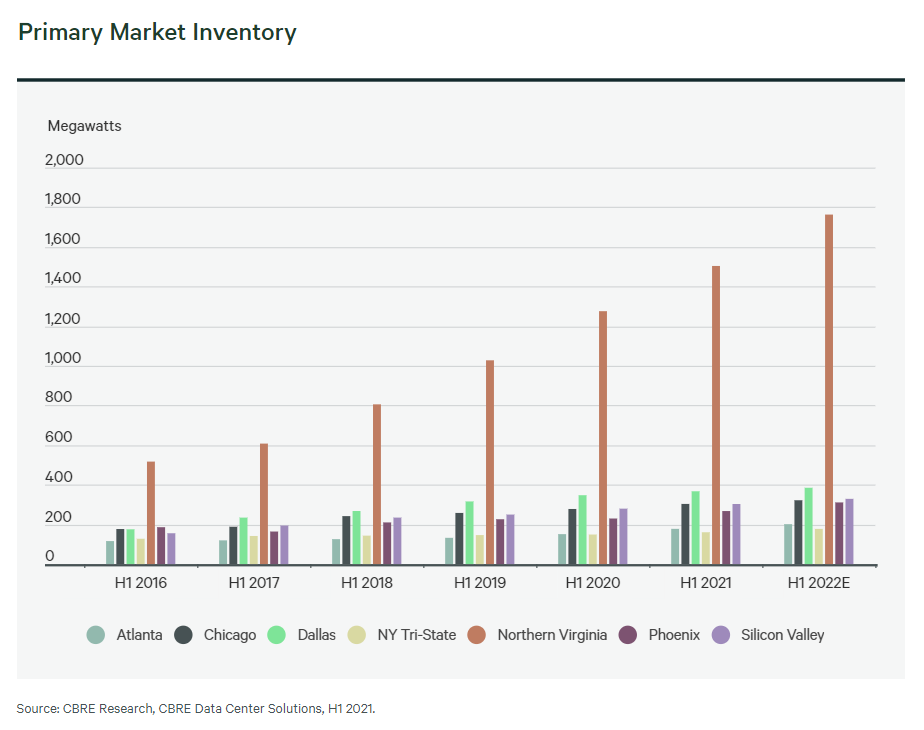 ---
Business as usual
Elsewhere, CBRE expects 2022 to be business as usual. Data centre needs are set to continue to grow as cloud service providers and social media and content streaming companies expand and 5G, AI and edge computing gain traction, spurring development of additional capacity nationwide.
Since 2016, wholesale colocation inventory in primary markets (Northern Virginia, Silicon Valley, Chicago, New York Tri-State, Dallas, Phoenix and Atlanta) has more than doubled to 3.08 gigawatts (GW).
With 527.6 megawatts (MW) under construction in primary markets—an increase of nearly 350 MW from 2016—"the accelerated growth of the data centre sector will continue in 2022," the authors say.
Secondary markets will continue to grow as developers seek to expand capacity, focusing on affordable land in favourable climates, network connectivity, clean and inexpensive power sources and favourable tax incentives.
Hillsboro, Oregon, which possesses many of these qualities, is expanding faster than other secondary markets and will see increased activity through 2022.
---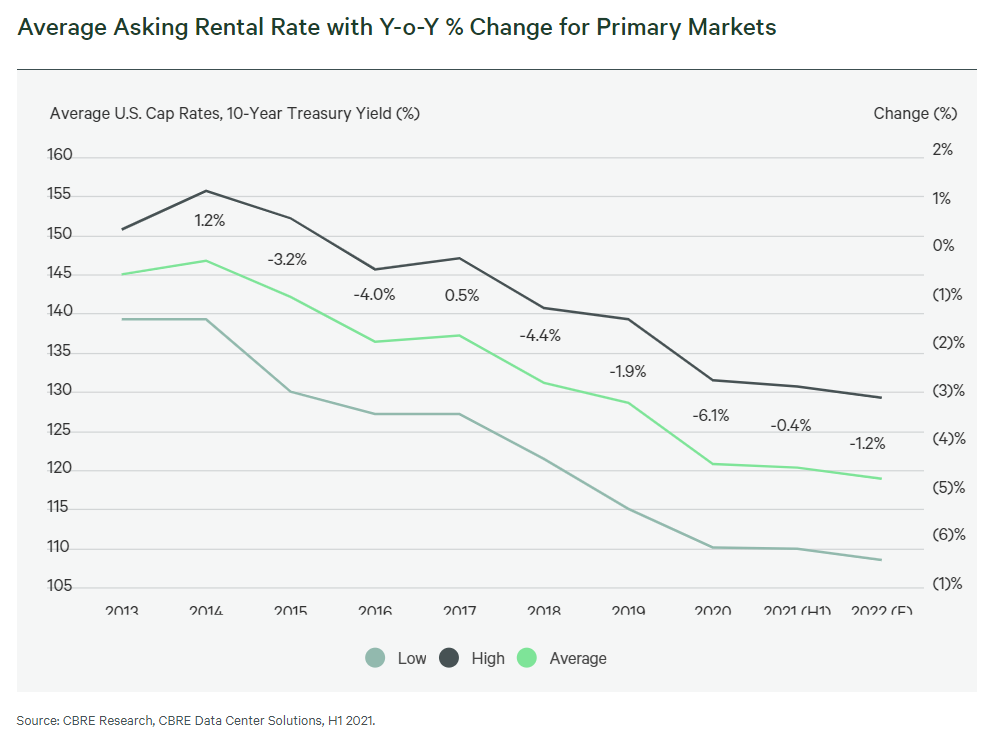 ---
In terms of pricing, on average, pricing continues to decline across both primary and secondary markets, largely due to more competition as new data centres come online.
"Some lower-vacancy markets, as well as markets facing potential supply bottlenecks, are beginning to see prices flatten out or, in some instances, tick up," it reads in the report.
"We anticipate this trend to continue in 2022, with space availability and power having the largest impact on asking rates. High-quality, highly connected assets such as carrier hotels will continue to command a premium for both new and existing tenants."
Listen to this article
Keywords