Latest
Company promises expansions that will increase its capacity in some metros by 500% in the coming years.
Founder and Editor, The Tech Capital
July 06, 2021 | 9:32 AM BST
Colocation operator Equinix (NASDAQ: EQIX) has become one of the largest IT foreign multinational investors in the Latin American region as capital investments reach US$1 billion.
The value includes organic and inorganic expansions that the company has carried out since it first entered the region in 2011 with the $83 million all-cash buyout of ALOG Data Centers of Brazil S.A.
Jon Lin, president for the Americas at Equinix, said: "Equinix first entered LATAM in 2011 with the acquisition of data centres from ALOG do Brasil. Since then, we have expanded to Rio de Janeiro and São Paulo, followed by Colombia and Mexico.
"This approach has been intentional. It has allowed us to carefully evaluate each of these unique markets, learn and adapt ourselves to the local cultures and commercial environments, and develop a deep understanding of our clients' needs.
"After ten years in LATAM and with over $1 billion invested in acquisitions and expansion, we have no plans to slow down. We are expanding more in those markers and have recently added more land to our portfolio for further expansion of our IBX data centres in São Paulo, Rio de Janeiro, Bogotá and Querétaro, which serves Mexico City. These new spaces will have an area of up to five times larger than the current IBX facilities."
Equinix has recently announced agreements for additional joint ventures in the form of limited liability partnerships with GIC, Singapore's sovereign wealth fund, which when closed and built out will bring the xScaleTM data centre portfolio to greater than $6.9 billion across 32 facilities globally.
For Latin America, the deal will land the region's first xScale data centre in the region, in São Paulo, by the third quarter of this year. Additionally, a second xScale data centre will be launched in Mexico City.
Latin America is today home to more than 650 million people of which only 60.13% are connected to the internet, according to Internet World Stats for the regions of South America, Central America and the Caribbean.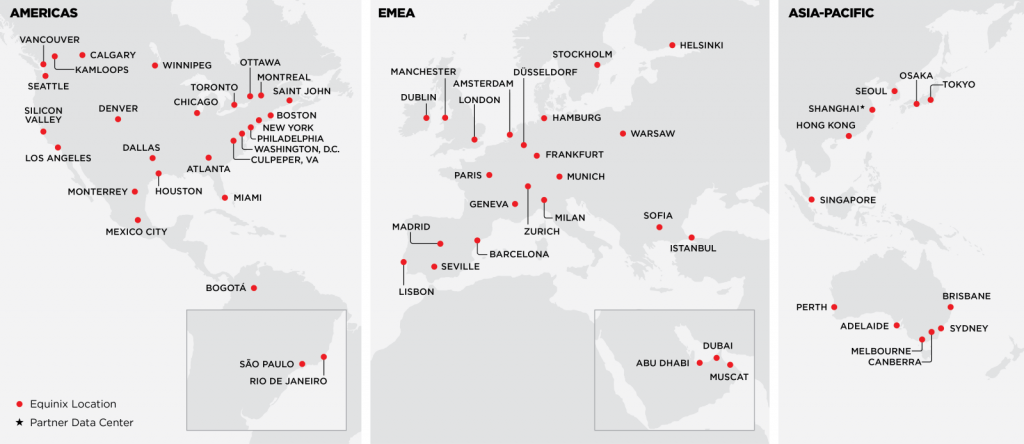 According to Equinix's fourth and latest edition of its Global Interconnection Index, Latin America's interconnection bandwidth is predicted to grow by a 50% CAGR, the highest of any region globally, contributing 9% of interconnection bandwidth.
The largest growth is seen across Service Providers— Telecommunications, Cloud & IT Services, and Content & Digital Media — as demand increases for edge services, content and last-mile connectivity to transport growing volumes of data.
Content & Digital Media is expected to grow at a five-year CAGR of 62%, making it the highest growth rate in the region. It will pass Banking & Insurance to become the third-largest industry in the region.
Healthcare & Life Sciences, Manufacturing and Business & Professional Services are the fastest-growing Enterprise industries, with all three forecasted to grow at a 50% CAGR or above.
In Latin America, the CAGRs for Manufacturing (50%) and Business & Professional Services (53%) exceed the growth rates for these sectors in other regions.
According to TeleGeography, internet traffic across the Latin America region boomed from 5% in 2019, to 20% today, with new subsea cable infrastructure connecting territories in the region and across the Atlantic and Pacific oceans driving that surge.
Lin said: "The LATAM market is an often-used business jargon. But the truth be told, Latin America is not just one market. It is several.
"Each of these markets has its own stage of development, maturity and growth, especially when it comes to technology adoption, cloud adoption, and most importantly, digital transformation."
Listen to this article
Keywords