Latest
Public cloud giant's footprint comprises now 26 regions with three availability zones each, and nine more on the way.
Founder and Editor, The Tech Capital
July 19, 2021 | 11:20 AM BST
The rapid development of India's digital economy has led Google (NASDAQ: GOOGL) to add a second cloud region in the country to cope with demand, four years after the company first established its footprint there.
The new Google Cloud region in the Delhi National Capital Region (NCR) joins 25 existing Google Cloud regions worldwide, of which ten are located in Asia Pacific.
Google explained the new presence has been designed to help both Indian and global companies alike build highly available applications for their customers.
Bikram SIngh Bedi, managing director of Google Cloud India, said: "Navigating this past year has been a challenge for companies as they grapple with changing customers demands and economic uncertainty. Technology has played a critical role, and we have been fortunate to partner with and serve people, companies, and government institutions around the world to help them adapt.
"The Google Cloud region in Delhi NCR will help our customers adapt to new requirements, new opportunities and new ways of working like we have helped so many companies do in the region."
With this new region, Google Cloud customers operating in India also benefit from low latency and high performance of their cloud-based workloads and data.
Designed for high availability, the region opens with three availability zones to protect against service disruptions, and offers a portfolio of key products, including Compute Engine, App Engine, Google Kubernetes Engine, Cloud Bigtable, Cloud Spanner, and BigQuery.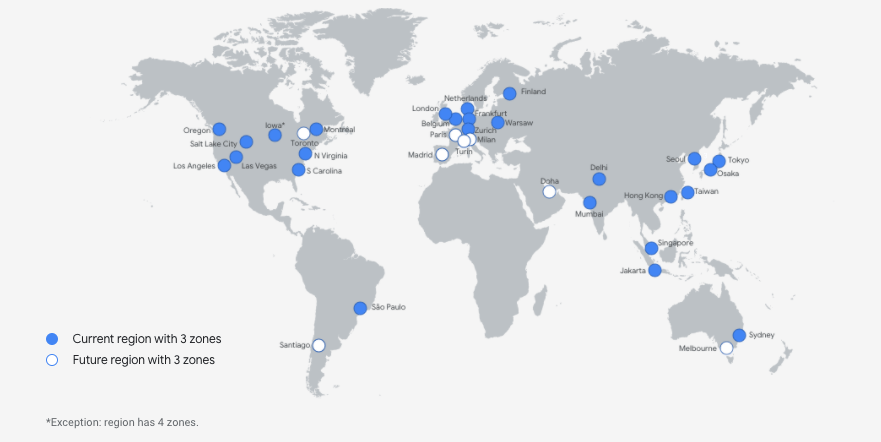 Google runs today 26 regions with three availability zones each, with a further nine locations currently under development in Toronto (Canada), Santiago (Chile), Madrid (Spain), Paris (France), Turn and Milan (both in Italy), Doha (Qatar), and Melbourne (Australia).
In addition to the cloud region announcement, Google and Google Cloud have also added that it will continue to support customers with people and education programs by investing in local talent and the local developer community to help enterprises digitally transform and support economic recovery.
Bedi said: "Through the India Digitization Fund, we expanded our efforts to support India's recovery from COVID-19—in particular, through programs to support education and small businesses.
"In addition to expanding internet access, and investments to help start-ups accelerate India's digital transformation, we have grown our Grow with Google efforts. Businesses can access digital tools to maintain business continuity, find resources like quick help videos, and learn digital skills—in both English and in Hindi."
And just last week, Google Cloud and Reliance Jio Infocomm (Jio), a subsidiary of Reliance Industries, entered into a long-term strategic relationship with a goal of powering 5G in enterprise and consumer segments nationwide.
In addition, Reliance clarified that it will also take advantage of Google Cloud's infrastructure, including Edge Cloud infrastructure, thereby enabling its retail business to achieve better operational efficiency, modernize and scale for growth, and deliver better performance and experiences to customers.
Mukesh Ambani, Chairman and Managing Director, Reliance Industries, said: "Cloud solutions is a key area where we are collaborating with Google. Jio will use Google Cloud's cutting-edge technologies to power Jio's 5G solutions and for powering the internal needs of key Reliance growth businesses like Reliance Retail, JioMart, JioSaavn and JioHealth."
In the summer of 2020, Google invested US$4.5 billion for a 7.73% stake in the top Indian telecom network.
Listen to this article
Keywords