Latest
Data centre operator's board of directors has also approved converting the business into a REIT, which would make Switch just one of around 10 data centre REITs in the world.
Founder and Editor, The Tech Capital
November 08, 2021 | 4:00 AM GMT
The global energy crisis faced by countries across several continents has had an impact on hyperscale data centre operator Switch's (NYSE: SWCH) third-quarter 2021 Adjusted EBITDA margin.
Year-on-year (YoY), the company's adjusted EBITDA margin was down 350 bp, a measurement that worsened when compared to the previous quarter down by 710 bp.
Adjusted EBITDA was $76.9 million, increasing 14.5% compared to $67.2 million in the year ago quarter, but down on Q2 2021's $79 million, or a 2.6% drop.
Gabe Nacht, CFO of Switch, said: "Seasonally elevated power costs affected our third quarter Adjusted EBITDA margin; however, we have already seen a normalisation in power markets following the peak summer months."
The global energy crisis, which has come at a time when the world is still reeling from the Covid-19 pandemic, has thrown oil, gasoline, natural gas, and coal prices to historic highs or close to.
For example, in the US, crude oil is up 65% this year to $83 per barrel, gasoline is at over $3 per gallon, whilst natural gas has more than doubled this year to $5 per million Btu, and the price of coal is up 400% to $270 per ton.
The situation, which has caused sporadic outages especially in Asia, has been deeply felt across Europe and in particular in the UK as the addition of Brexit adds an extra layer of complexity to UK-EU deals.
As the Northern Hemisphere enters the winter months, concerns are growing on people's ability to warm their houses and fill their tanks. Fears are also sparking a "stock upsurge" as supply chain is hit by the growing energy prices.
Data centres being a large energy consumer are prone to be affected by the crisis. The severity will depend on where operators are based, as well as their energy consumption methods, eg. renewables vs fossil fuel.
In the long term, questions remain on just how much the energy crisis will impact the data centre economy in the coming months, and how that force will cascade down to customers.
Switch's other results
Whist the energy crisis slightly impacted Switch's adjusted EBITDA margin, the business' other quarterly numbers were positive and in line with the industry's growth trend.
Total revenue for Q3 2021 were $158.1 million, increasing 22.8% compared to $128.8 million for the same quarter in 2020. Q3'21 revenue includes a $12.0 million contribution from Data Foundry, acquired earlier in the year.
Net loss was $0.9 million, compared to net income of $13.2 million for the same quarter in 2020. Net loss per diluted share was $0.00, compared to net income per diluted share of $0.05 for the same quarter in 2020. Adjusted net income per diluted share was $0.01 in Q3'21.
Adjusted Funds From Operations (AFFO) hit $51.1 million, decreasing 8.8% compared to $56.0 million in Q3'20.
As of September 30, 2021, Switch's total debt outstanding, including finance lease liabilities, net of cash and cash equivalents was $1.5 billion, resulting in a net debt to Q3 2021 annualised Adjusted EBITDA ratio of 5.0x.
As of September 30, 2021, Switch had liquidity of $488.3 million, including cash and cash equivalents and availability under its revolver.
---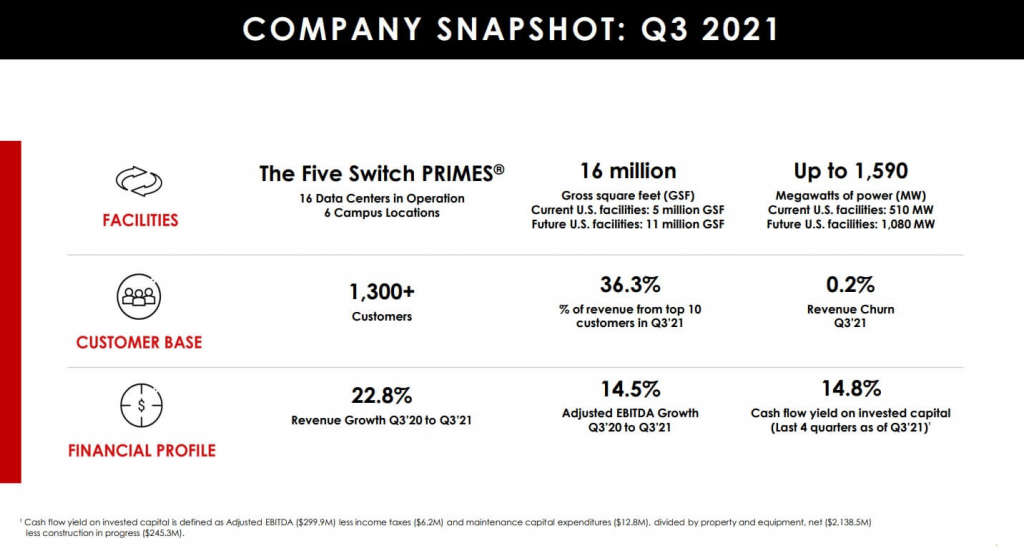 ---
CAPEX
Capital expenditures for the third quarter totalled $135.9 million, including maintenance capital expenditures of $3.7 million, or 2.3% of total revenue.
Growth capital expenditures, excluding land purchases, were $132.2 million for the third quarter of 2021, compared to $80.6 million in the same period last year.
During the quarter ended September 30, 2021, Switch invested $50.9 million in The Core Campus for continued construction of the first sector at LAS VEGAS 15 and site preparation for LAS VEGAS 14 and 16.
The operator has also deployed $48.2 million in capital in The Citadel Campus, primarily related to increased power and cooling capacity, tenant improvements for a pre-committed sector at TAHOE RENO 1, which opened in Q3 2021, and site work for the TAHOE RENO 2 facility scheduled to open in early 2023.
---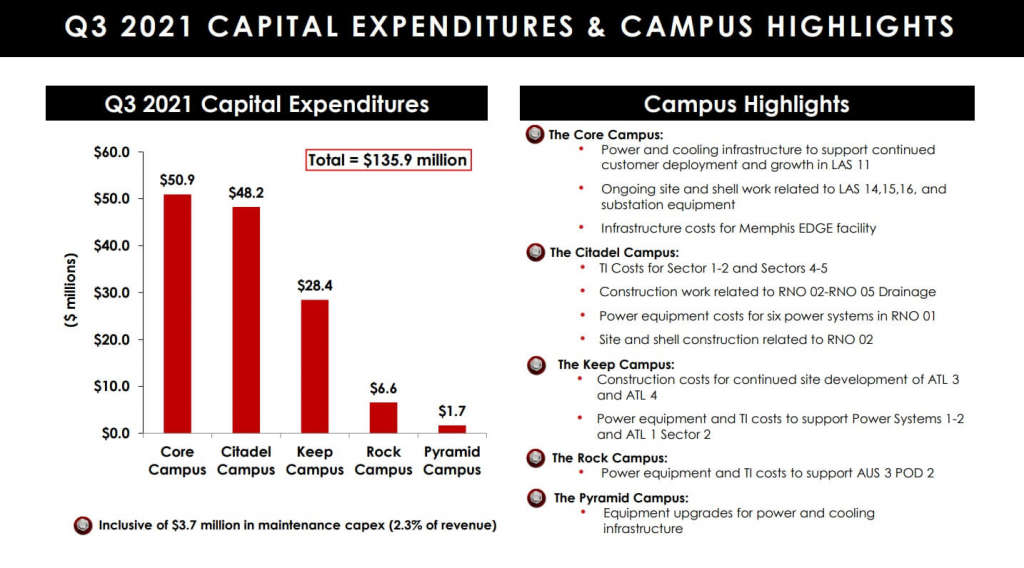 ---
Elsewhere, Switch has invested $28.4 million in The Keep Campus for additional power, cooling, and tenant improvements for the second sector at ATLANTA 1 and site preparation for the ATLANTA 3 data centre scheduled to open in 2023.
A further $6.6 million was placed into in The Rock Campus for construction and tenant improvements, data centre equipment upgrades for incremental power and cooling capacity at the AUSTIN 3 facility.
Rob Roy, Founder and CEO of Switch, said: "During the third quarter, Switch continued to build on its strong relationships with some of the world's largest enterprises while accelerating capital investment to meet client demand.
"The strong demand for our differentiated, resilient, and sustainable data centres was once again evident this quarter with the signing of multi-megawatt transactions with new and existing enterprise customers, including a three-megawatt deal at The Rock Campus with a Fortune 5 global technology company in Austin, proving out our strong conviction in the growth opportunities that lie ahead in Texas and the early validation of our Data Foundry acquisition.
"We remain committed and focused on the completion of our current construction pipeline across all PRIME locations and the opening of future capacity to support our long-term growth initiatives."
---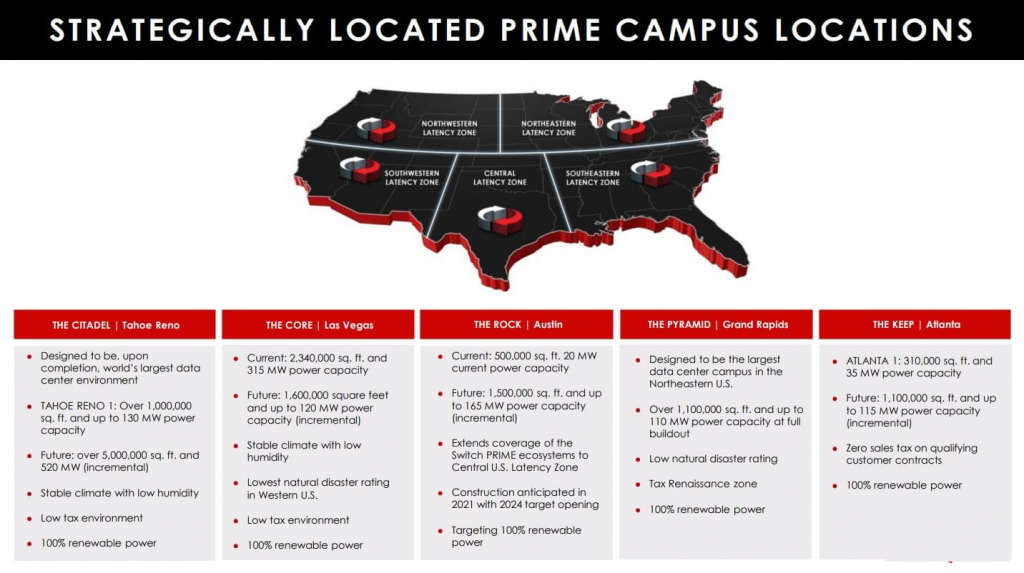 ---
Becoming a REIT
Buried in Switch's financial report is the news that the company's board are favourbly voted to transform the business into a real estate investment trust (REIT), similar to the structure of other hosting giants of the likes of Equinix (NASDAQ: EQIX), Digital Realty (NYSE: DLR) or CoreSite (NYSE: COR).
With respect to Switch's plans to convert to a REIT, there are significant implementation and operational complexities to address before Switch can complete such conversion, including, without limitation, completing internal reorganisations and modifying accounting and information technology systems, and receiving any necessary stockholder and other approvals.
The company said Switch can provide no assurance when conversion to a REIT will be successful, if at all.
"In addition, REIT qualification involves the application of highly technical and complex provisions of the US Internal Revenue Code of 1986, as amended to Switch's operations as well as various factual determinations concerning matters and circumstances not entirely within Switch's control," the operator said,
---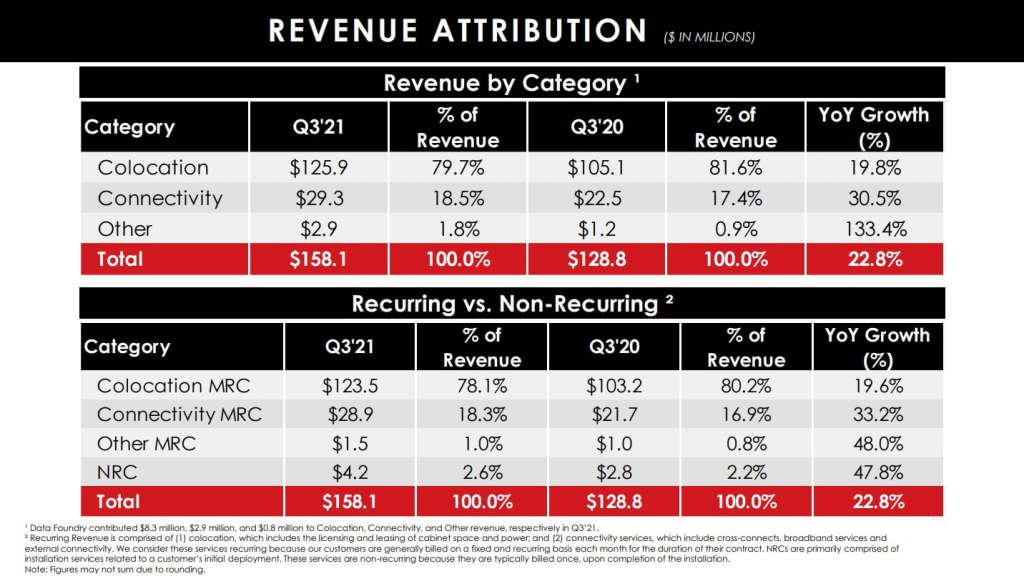 ---
Although, if it converts to a REIT, Switch plans to operate in a manner consistent with the REIT qualification rules, Switch cannot give assurance that it will so qualify or remain so qualified. Further, under the Code, no more than 25% of the value of the assets of a REIT may be represented by securities of one or more taxable REIT subsidiaries and other nonqualifying assets.
This limitation may affect Switch's ability to make large investments in other non-REIT qualifying operations or assets.
As such, compliance with REIT tests may hinder Switch's ability to make certain attractive investments, including the purchase of significant nonqualifying assets and the material expansion of non-real estate activities.
While Switch's goal is to elect REIT status for the taxable year beginning January 1, 2023, Switch does not know when, if at all, it will elect REIT status, and it may not do so.
Further, many conditions must be met in order to complete the conversion to a REIT, and the timing and outcome of many of these are beyond Switch's control.
Thomas Morton, President of Switch, said: "The Board of Directors of Switch recently voted unanimously to convert to a REIT and to pursue completion of the conversion by January 1, 2023.
"We look forward to sharing further details about our strategic initiatives to enhance shareholder value, in addition to our multi-year growth objectives during our upcoming Investor Day on November 15, 2021."
---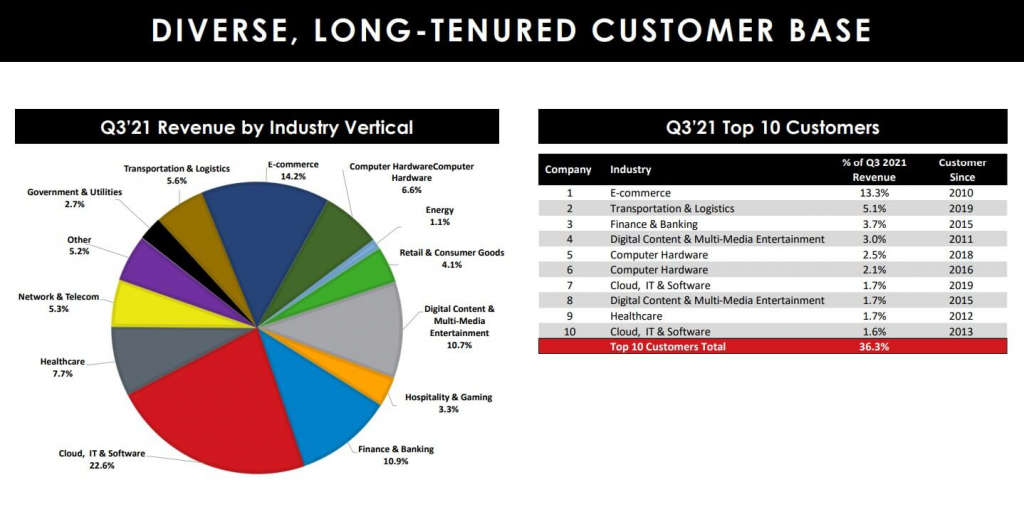 ---
2021 Guidance
Switch has also adjusted its full year 2021 guidance, excluding contributions from Data Foundry, as follows:
Revenue in the range of $563.5 million to $566.5 million, reflecting 10.4% organic growth at the midpoint. The implied Q4 revenue guidance represents approximately 17% organic growth at the midpoint.
Adjusted EBITDA in the range of $296 million to $302 million, reflecting a margin of 52.9% and 11.4% organic growth at the midpoint.
Capital expenditures, excluding land purchases, in the range of $397 million to $423 million.
On a consolidated basis including Data Foundry, 2021 guidance is as follows:
Revenue in the range of $590 million to $595 million, reflecting 16% growth at the midpoint.
Adjusted EBITDA in the range of $307 million to $314 million, reflecting a margin of 52.4% and 16% growth at the midpoint.
Capital expenditures, excluding land purchases, in the range of $410 million to $440 million.
The adjustment to 2021 revenue guidance is primarily related to a lower than expected contribution from pass-through power revenue during the second half of 2021, in addition to a modest timing difference in customer deployments relative to prior expectations, the company explained.
The revenue impact from lower pass-through power is largely offset by lower than planned power costs for the second half of 2021, resulting in no material change to the full year Adjusted EBITDA guidance.
The increase in guidance for 2021 capital expenditures is primarily related to an acceleration in equipment purchases and construction related to projects in The Keep Campus, The Citadel Campus, and The Core Campus; including Switch's LAS VEGAS 15 facility which is expected to be placed into service in Q2 2022.
Listen to this article
Keywords