Latest
REIT has now 27 data centre facilities spread across North America with the highest concentration on the continent's east coast.
Founder and Editor, The Tech Capital
March 13, 2021 | 2:16 PM GMT
Mapletree Industrial Trust (MIT) has, through its wholly-owned subsidiary, Richmond DC Assets, LLC, completed the acquisition of the Bank of America's data centre and office building located in Richmond, Virginia.
The property has a land area of approximately 2.0 million square feet. The freehold property with a total net lettable area of about 700,000 sq ft consists of data centre and office space. The value attached to the data centre is more than 50% of the property's valuation.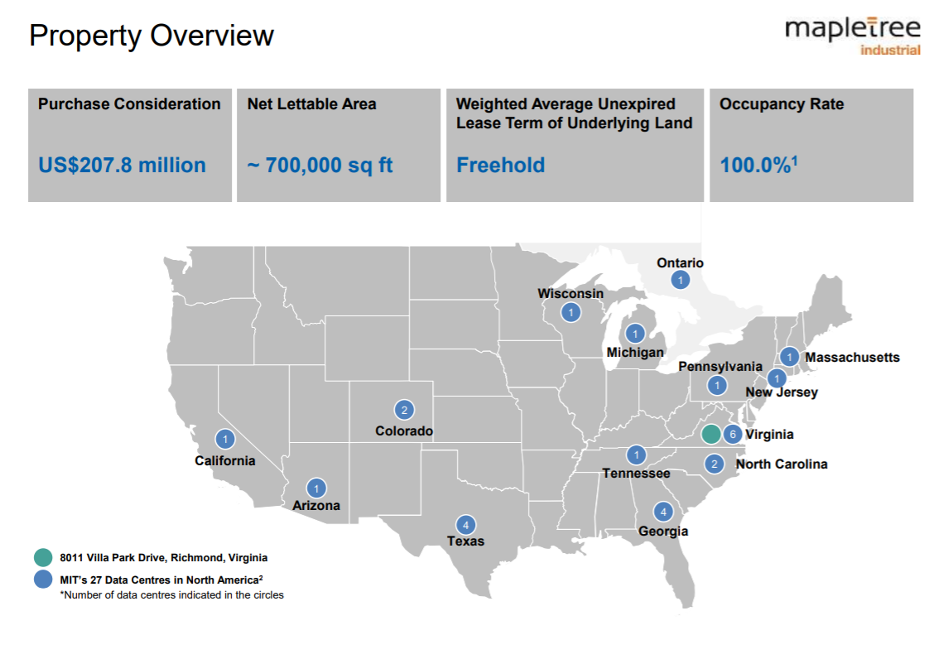 The purchase consideration, the amount held in escrow and the acquisition-related costs has been estimated to be approximately US$246.7 million (approximately S$335.5 million).
The total acquisition outlay has been or expected to be funded fully by debt. Depending on the market conditions, MIT said it may consider other funding sources to partially refinance the debt.
The acquisition is expected to be distribution per unit accretive to unitholders of MIT.
The addition of the property in Richmond, MIT's footprint has now reach 27 data centre assets across North America.
The latest acquisition has augmented MIT's tenant base and upon completion, the new tenant will become the 5th largest tenant of MIT's portfolio and reduce the exposure to any single tenant from 7.5% to 7.3%. The other four being – in order of largest to smallest – HP, AT&T, Equinix and an undisclosed global social media company.
Listen to this article
Keywords