Latest
FSIs have additional challenges of being heavily regulated, highly competitive, and major targets for cybersecurity threat actors, nevertheless, cloud adoption is soaring.
Founder and Editor, The Tech Capital
August 25, 2021 | 12:00 AM BST
Banks and other financial service industry (FSI) businesses are migrating to the cloud at record rates with usage expected to reach 90% by 2023.
However, nearly 60% of FSI businesses state they do not have sufficient in-house knowledge for proper cloud execution—a number that has more than doubled since 2018, according to Frost & Sullivan's latest white paper, "Modernizing Operations and Customer Interactions in the Financial Services Industry".
The research has found that banks and other financial entities are already among the highest users of hybrid cloud, the adoption of which grew an additional 8% in 2020. Multicloud adoption for financial firms soared by 70% in 2020.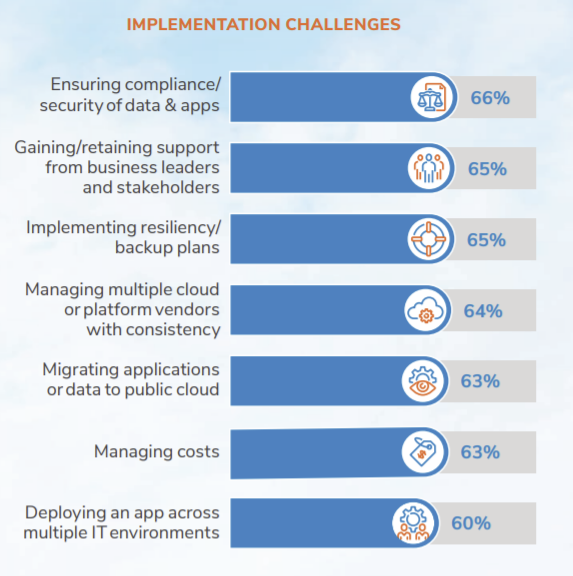 Eighty-three percent of financial industry IT and business leaders believe they are more digitally advanced than their competitors.
According to researchers, this indicates a level of over-confidence in the industry, underestimation of the competition's capabilities and, potentially, great risk of falling behind.
The percentage of new workloads being run in the cloud is growing faster for the banking industry than others, expanding 4% more quickly than businesses overall by 2025.
The financial sector is already ahead, with over half of new workloads run in the cloud as of 2020, whereas the reverse is true when looking at all industries combined.
In terms of challenges, data compliance and security are the top concerns for FSI cloud implementation, affecting 66% of businesses. As many as 81% of IT executives in FSI reported an increase in cyberattacks in 2020.
Roberta Gamble, Partner & Vice President at Frost & Sullivan, said: "As FSIs house large volumes of business and customer data, they are highly regulated. They're also attractive targets for cybersecurity threat actors. However, FSIs are highly adept at improving operational efficiency through data and new technologies and lead most industries in innovative digital customer experiences.
"To ensure they get the most value from their IT strategy, FSI businesses need to work with partners that can help them better manage data needs so they may channel the more expensive resources to high-value projects, in line with a bank's core competencies."
Listen to this article
Keywords