Latest
Facility will take the firm's footprint in the Australian city to over 450MW when combined with existing infrastructure.
Founder and Editor, The Tech Capital
November 05, 2021 | 2:00 AM GMT
Asia-Pacific hyperscale data centre operator AirTrunk has unveiled plans to build a new Western Sydney data centre, named AirTrunk SYD3 (SYD3).
The facility will be the largest single campus in the Asia-Pacific region (excluding China) at 320+ megawatts (MW) of capacity, the company said in a statement.
The provider has not disclosed the capital to be invested in the structure. However, it said it represents "a new multi-billion-dollar investment into the State of New South Wales" (NSW) and will create hundreds of new jobs in Western Sydney during both the construction and operational phases.
SYD3, AirTrunk's third Sydney data centre, joins SYD1 (130+ MW) in Western Sydney and SYD2 (110+ MW) in the city's north.
The 'AirTrunk Western Sydney Region' expands to 450+ MW with the SYD1 and SYD3 connected campuses.
---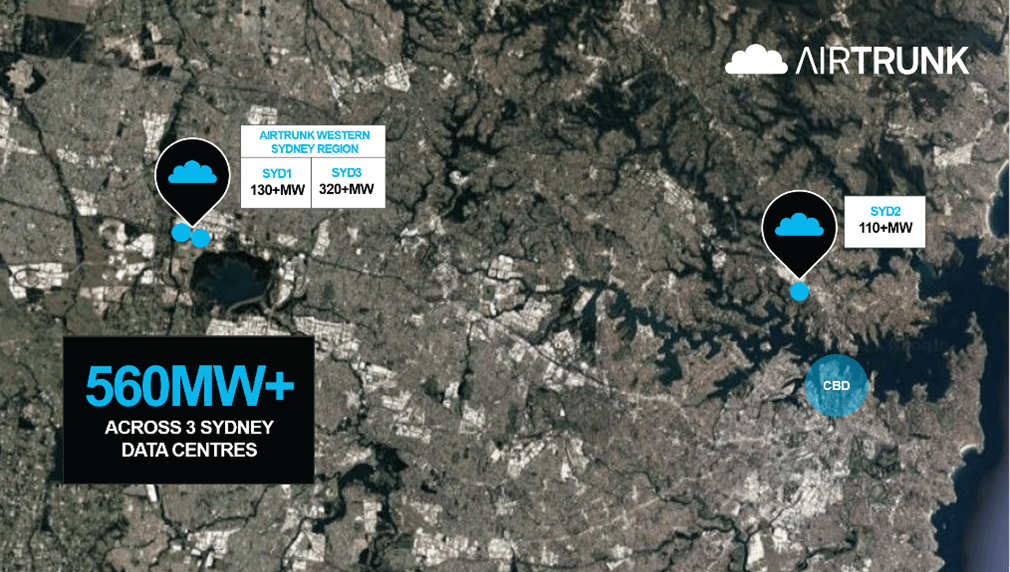 ---
SYD3 will include nine phases set across 8.3 hectares (20.5 acres) and will be powered by a 132KV onsite substation.
The facility has been designed to reach a power usage effectiveness (PUE) of 1.15 and will utilise approximately 80% less water than a traditional data centre.
AirTrunk's founder and chief executive Robin Khuda, said: "It is an exciting day as we circle back to Western Sydney here it all began for AirTrunk when we launched our flagship SYD1 data centre in late 2017.
"With SYD1 nearing full capacity, SYD3's location less than one kilometre away, will help our major technology customers scale with ease and creates synergies and efficiencies between the connected campuses."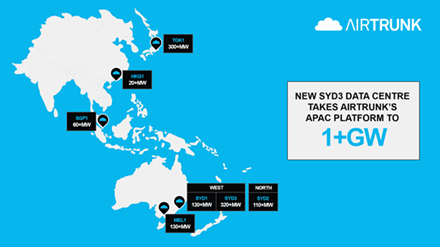 SYD3 brings AirTrunk's Asia-Pacific platform to a total of seven hyperscale data centres (including four in Australia) with a total capacity of more than a gigawatt (GW).
Founded in 2015, Sydney—headquartered AirTrunk is a private company which in 2020 sold a major stake in the business to a consortium led by Macquarie Asia Infrastructure Fund 2 (MAIF2) and including Public Sector Pension Investment Board (PSP Investments), investing alongside AirTrunk's Founder and CEO Robin Khuda.
MAIF2 is managed by Macquarie Infrastructure and Real Assets, one of the world's leading alternative asset managers and part of the ASX-listed Macquarie Group Limited (ASX:MQG).
The company has recently also released its first sustainability report as well as a series of targets across its Planet, People and Progress pillars to minimise its carbon footprint and create a more inclusive workplace.
Listen to this article
Keywords