Latest
This has been a bullish quarter for the Kansas business with stock up, strong revenues and outcome, and one of the sector's largest merger and acquisition announcements.
Founder and Editor, The Tech Capital
August 04, 2021 | 12:00 AM BST
In line with this quarter season's results, QTS Realty Trust, Inc. (NYSE: QTS) has reported revenues of over 15% for its Q2 2021 operating results.
In total, the company cashed in sales of US$155.2 million for the quarter ended June 30, 2021, an increase of 17.9% compared to the same period in 2020.
Total consolidated revenues do not include QTS' pro-rata share of revenue attributable to its unconsolidated joint venture of $2.3 million and $1.7 million for the quarters ended June 30, 2021 and 2020, respectively.
The operator reported Adjusted EBITDA of $87.7 million for the quarter ended June 30, 2021, an increase of 20.4% compared to Adjusted EBITDA of $72.8 million for the same period in 2020.
As of June 30, 2021, the QTS' total available liquidity was approximately $929.4 million, comprised of $901.3 million of available capacity under the company's unsecured revolving credit facility and approximately $28.1 million of cash and cash equivalents.
---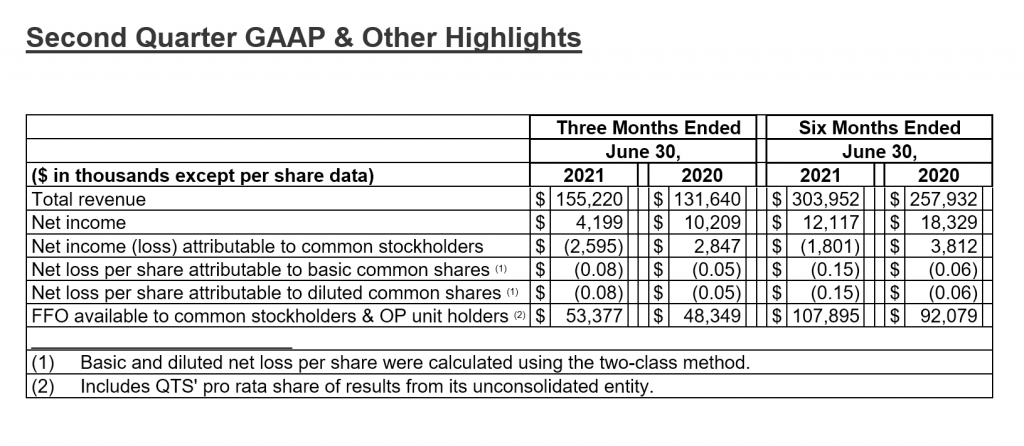 ---
During Q2, the company brought online approximately 22 megawatts of gross power and approximately 88,000 net rentable square feet of raised floor at its Atlanta (DC – 2), Ashburn (DC – 2), Chicago, Hillsboro and Santa Clara facilities at an aggregate cost of approximately $135.3 million (excluding customer specific capital and leasing commissions).
During the second quarter of 2021, QTS has continued to expand at the Manassas (DC – 2), Ashburn (DC – 1), Atlanta (DC – 2), Richmond, Piscataway, Hillsboro, Fort Worth, and Irving facilities to have space ready for customers in 2021 and beyond.
QTS owns, operates or manages 28 data centres and supports more than 1,200 customers primarily in North America and Europe.
Last June, the business and QualityTech, LP, its operating partnership, entered into a $10 billion agreement and plan of merger with Volt Upper Holdings LLC, a Delaware limited liability company, Volt Lower Holdings LLC, a Delaware limited liability company, and Volt Acquisition LP, a Delaware limited partnership, all affiliates of The Blackstone Group Inc (NYSE: BX).
Chad Williams, Chairman and CEO of QTS, said: "QTS' strong second-quarter results demonstrate the continued momentum of our platform. We remain focused on executing our business plan, leveraging our core differentiators to grow our market share at attractive returns on invested capital.
"We believe the announced acquisition of QTS by Blackstone represents a strong return for shareholders while positioning QTS to achieve our strategic objectives in our next phase of growth. I would like to thank each of our QTS employees for their continued commitment to setting a world-class standard of service to our customers, communities and each other which has positioned QTS to enter into this transformative transaction."
Listen to this article
Keywords