Latest
Upon listing on SGX-ST, CLI is expected to become a leading listed REIM globally with pro forma total RE AUM of approximately S$115 billion.
Founder and Editor, The Tech Capital
August 11, 2021 | 10:58 AM BST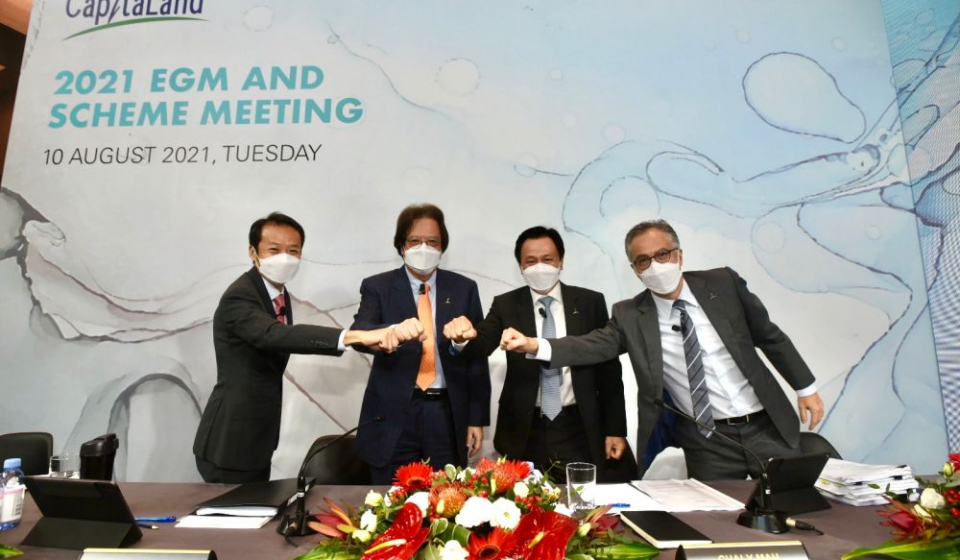 (From L-R) Mr Lee Chee Koon, CapitaLand Group CEO; Mr Miguel Ko, Chairman of CapitaLand Limited; Mr Chaly Mah, an Independent Director of CapitaLand Limited and Chairman of the EGM and Scheme Meeting; and Mr Andrew Lim, CapitaLand Group CFO, shared a fist bump moment after CapitaLand shareholders voted overwhelmingly in favour of the proposed strategic restructuring and listing of CapitaLand Investment at the virtual Meetings.. Source: Capitaland
CapitaLand shareholders have voted in favour of the Proposed Strategic Restructuring and Listing of CapitaLand Investment, in what could be one of the largest business reorganisations in Singapore this year.
Post-proposed transaction, CapitaLand's investment management platforms, as well as its lodging business, will be consolidated into CapitaLand Investment Limited (CLI), which will be listed by introduction on the Singapore Exchange (SGX-ST); while the real estate development business of CapitaLand will be placed under private ownership, to be fully held by CLA Real Estate Holdings Pte. Ltd.  
More than 3,400 CapitaLand shareholders voted by proxy at the Extraordinary General Meeting (EGM) and the Scheme Meeting held via electronic means today.
At the EGM, approximately 99.59% of the total number of votes were in favour of the resolution to approve the Capital Reduction and Distribution in Specie, the company said in a statement.
At the Scheme Meeting, the resolution to approve the Scheme of Arrangement received approval from approximately 97.58% of the number of shareholders holding approximately 99.80% in value of the total number of CapitaLand shares voted. The Offeror and its concert parties abstained from voting at the Meetings.
---
---
Lee Chee Koon, Group CEO, CapitaLand Group, said: "With CapitaLand's restructuring off to a positive start, we can now push ahead with confidence to execute and deliver on our commitment. From September 2021, CapitaLand will operate as two clearly defined entities: CLI, CapitaLand's listed global real estate investment management business, and the privatised CapitaLand Development (CLD) with its extensive property development capabilities. These two core entities will complement and mutually reinforce each other. They represent the future of CapitaLand."
Koon added that as the market increasingly starts to appreciate the value of real estate investment managers (REIMs), he expects to see more Asian-based REIMs emerge.
"This will mean stronger competition for capital, but also more opportunities as global capital flows into Asia," said.
Upon listing on SGX-ST, CLI is expected to become a leading listed REIM globally with pro forma total real estate assets under management (RE AUM) of approximately S$115 billion as at 31 December 2020.
On a pro forma basis, as at 31 December 2020, CLI had approximately S$78 billion of real estate funds under management (FUM) held via its managed Listed Funds and Unlisted Funds across the Asia-Pacific, Europe and USA.
Subject to (i) obtaining the Court's orders approving the Capital Reduction and Distribution In Specie and sanctioning the Scheme and (ii) the satisfaction and/or waiver of other conditions of the Scheme, the Proposed Transaction is expected to be completed in or around mid-September 2021,4 upon which CapitaLand will be delisted from SGX-ST and CLI will be listed on SGX-ST.
Listen to this article
Keywords