Latest
Sale will not impact Colt DCS' hyperscale portfolio, as the operator plans to continue expanding its footprint to 450MW in the coming years.
Founder and Editor, The Tech Capital
November 02, 2021 | 7:00 AM GMT
AtlasEdge Data Centres, a Liberty Global (NASDAQ: LBTYA, LBTYB and LBTYK) and DigitalBridge (NYSE: DBRG) portfolio company, has acquired 12 data centre properties from Colt Data Centre Services (DCS).
The portfolio includes data centers in tier one and tier two markets across Europe, including Amsterdam,
Barcelona, Berlin, Brussels, Copenhagen, Hamburg, London, Madrid, Milan, Paris and Zurich.
The combined IT load of the properties stands at 53.6MW with a hosting floor space of 229,000 sq ft.
Speaking to The Tech Capital, Josh Joshi, executive chairman of AtlasEdge, said: "Our deal with Colt is a highly attractive acquisition for AtlasEdge for several reasons. Strategically, we instantly establish a pan-European presence in 9 of the top 10 Western European economies and place ourselves in key locations that are close to end-users.
"Securing these twelve additional highly connected data centres also means that we are inheriting more than 700 great customers across multiple sectors, including a strong anchor tenancy from Colt.
"We are looking forward to delivering for our customers and believe that they will provide significant insight on growing demand as we continue to expand our footprint at the edge."
Financial details of the transaction have not been disclosed at this stage.
---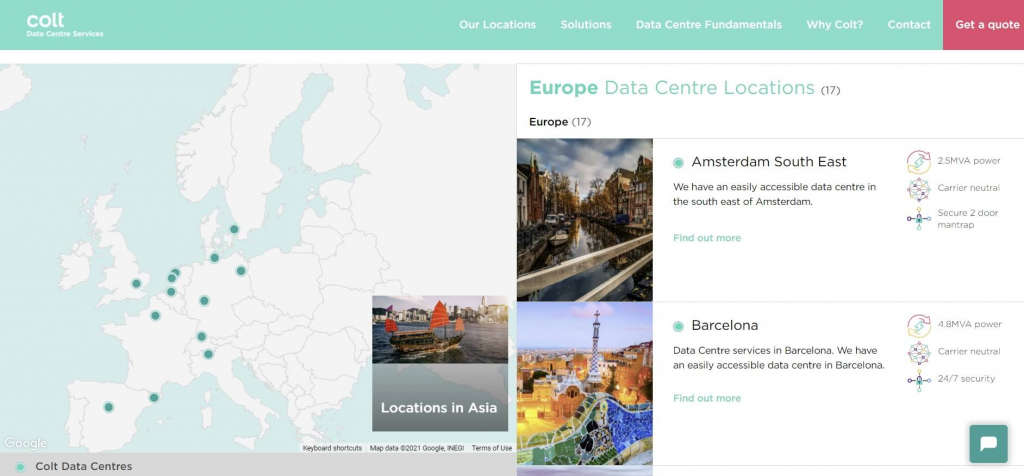 ---
AtlasEdge was launched last September and has brought with it some of Europe's colocation heavyweights including Joshi, Zahl Limbuwala (Chief Operating Officer) and Ron Huisman (Chief Financial Officer).
The company delivers services via a network of facilities located close to consumer and enterprise end-users, the "edge" of the network.
The brand aims to serve the growing demand from cloud providers, streaming services and enterprises for facilities through which they can distribute low-latency applications and services such as 5G, gaming, IOT and edge compute.
AtlasEdge already has an expanding portfolio of more than 100 data centres across the continent, the operator said in a statement.
Elsewhere, Colt DCS said that refining its current portfolio will allow the business to further strengthen its longstanding relationship with both its hyperscale and large enterprise.
"It will also allow the organisation to focus on accelerating the execution of its hyperscale strategy and increasing capacity in key markets that its customer want to enter and expand in," it explained in a statement.
Colt DCS added that the hyperscale facilities that it currently owns and operates, including those that are currently under construction, will not be affected by the sale to AtlasEdge and will continue to be owned by Colt Data Centre Services.
The company will retain five facilities from its European portfolio including one in Frankfurt, one in Rotterdam, two in London and one in Paris.
In line with Colt DCS' capacity roadmap and land banking strategy the company has a number of sites due to be completed throughout the next couple of years, across Europe, India and Japan. This will see the organisation rapidly grow its portfolio with a combined total IT power capacity in excess of 450MW.
Niclas Sanfridsson, CEO, Colt DCS, said: "Demand for data storage and cloud capabilities has never been higher, and so is the need for businesses to scale and find capacity. By restructuring and focusing on our hyperscale facilities, we can meet our customers' needs on demand with true scalability and efficiency, while meeting their sustainability targets.
"We are committed to ensuring a sustainable business model for the future and this latest deal will improve the returns on investment across our portfolio, which can then be reinvested into the business."
Listen to this article
Keywords