Latest
The company's Digital Colony Partners II private equity fund has reached equity capital commitments of $8.1 billion as equity stakes in data centre, fibre and tower companies increase the group's digital infrastructure footprint on all continents.
Founder and Editor, The Tech Capital
November 08, 2021 | 7:00 AM GMT
DigitalBridge Group, Inc. (NYSE: DBRG) and its subsidiaries have reported third-quarter 2021 total revenues of US$252 million as the company has now moved into its second phase of operations.
The Boca Raton, Florida-based REIT has also shared an increased Adjusted EBITDA to $34 million from the second quarter 2021 and by 160% from $13 million in the prior year driven by FEEUM growth and investments in digital operating companies.
FEEUM represents the equity for which a company provides investment management services and from which it derives management fees and/or performance allocations, according to Law Insider.
GAAP net income attributable to common stockholders of $41 million, or $0.08 per share, Core FFO of $2.0 million and AFFO of $0.7 million.
Marc Ganzi, president and CEO of DigitalBridge, said: "Having successfully rotated more than $70 billion of AUM in less than three years, we've transformed DigitalBridge into a leading global digital infrastructure firm.
"Nearly 100% digital, we're fully aligned with the powerful secular tailwinds driving opportunities in global connectivity and playing offense by generating growth through new offerings while accelerating operating earnings.
"We are pleased that our second flagship fund, DCP II, reached commitments of $8.1 billion, validating DigitalBridge as the partner of choice to institutional capital looking to build exposure to this resilient, growing asset class."
---
---
DigitalBridge manages today a $38 billion portfolio of digital infrastructure assets on behalf of its limited partners and shareholders
The business has been undergoing a ferocious digital infrastructure expansion roadmap across most continents, with several billion dollars invested in the process.
Two of its flagship brands include Vantage SDC and DataBank. According to its financial results, DigitalBridge owns an equity interest of 13% and 20% in each business respectively.
The two brands give the DigitalBridge portfolio a group of 76 data centre facilities in the Americas, Europe and Asia, with further expansion under way in South America and Africa. Combined, the sites include 300MW of IT load, of which, 80.6% are utilised.
---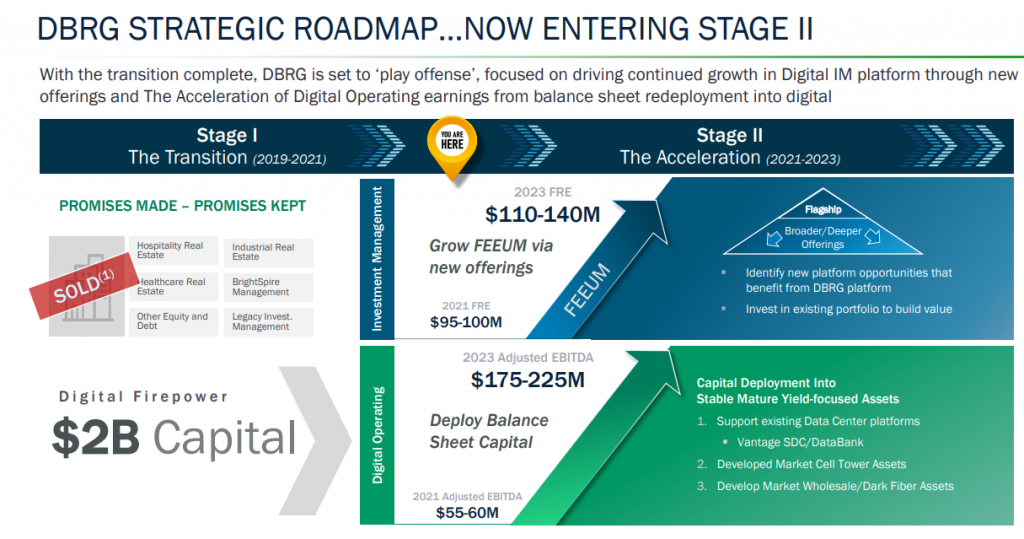 ---
Other key logos in DigitalBridge's portfolio include:
Vertical Bridge (a tower business with 8,000 locations in the US)
EdgePoint Infrastructure (which manages 10,100 towers in Indonesia and Malaysia)
AtlasEdge Data Centres (Europe's newest edge data centre business which recently acquired 12 facilities from Colt DCS)
Scala Data Centers (a Brazilin data centre operator that plans to bring online more than 650MW of IT power by 2023)
Superloop (only accounting for its operations in Hong Kong and Singapore, which include 158 miles of fibre systems)
Landmark Dividend (with over 5,000 digital infrastructure assets including tower ground leases, data centres, outdoor advertising, and renewable power generation)
Landmark Infrastructure Partners (NASDAQ: LMRK) (which owns and manages a portfolio of real property interests and infrastructure that we lease to companies in the wireless communication, outdoor advertising and renewable power generation industries.; DigitalBridge currently owns 19.9% of the business but is expected to acquire 100% ownership following a shareholders vote on December 9, 2021)
---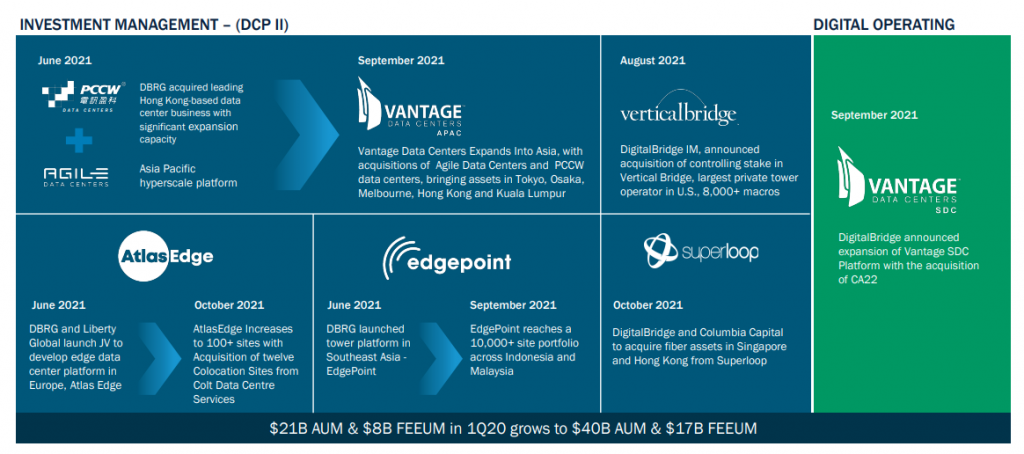 ---
Elsewhere, CEO Ganzi has been appointed to the Nareit 2022 Advisory Board of Governors. Nareit, the National Association of Real Estate Investment Trusts, is the worldwide representative voice for REITs and real estate companies with an interest in US real estate.
Ganzi said: "I am honoured to have been elected to Nareit's Advisory Board of Governors and look forward to working with other members to highlight the important role REITs play, now and into the future, in creating jobs, driving economic activity, revitalizing communities and building much needed digital infrastructure.
"As a unique digital REIT with the operating DNA and access to institutional capital that positions us to execute globally on converging the digital infrastructure ecosystem, DigitalBridge is laying the foundation today for tomorrow's data-driven economy."
Nareit President and CEO, Steven A. Wechsler, added: "Nareit brings together diverse groups of professionals who share a common interest in real estate investment. We are pleased to welcome Marc Ganzi, a leader in the digital real estate sector with more than two decades of experience, to our Advisory Board of Governors."
Listen to this article
Keywords