Latest
The week begins with a busy for the Blue Economy as cable stories make headlines across the globe.
Founder and Editor, The Tech Capital
August 16, 2021 | 3:19 PM BST
In what could be dubbed as the "subsea super Monday", the industry has unusually announced several developments and investments into subsea cabling infrastructure.
From Asia to Africa, Europe and North America, the projects cover most of the Earth and are set to service billions of users.
As economies continue to digitise, further layering of cables is expected to continue at speed in the foreseeable future.
The developments come as over the period of 2019-2021, more than 50 submarine projects have been proposed, worth an investment of $7.2 billion, according to Report Ocean.
The global subsea cable equipment market was valued approximately at $1.40 billion in 2019, with Report Ocean's analysts anticipating it to grow with a healthy growth rate of more than 5% over the period of 2020-2027.
Below is a run down of the top subsea stories this Monday.
Polar Express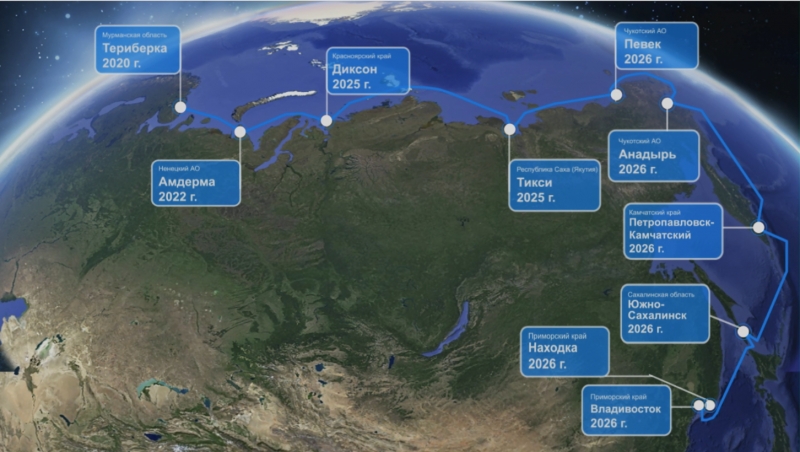 Construction has begun on the much-anticipated Polar Express subsea cable. Ships have taken to the sea in Murmansk, northwestern Russia, to lay the first trenches of the six pairs of fibre-optic cables passing through Amderma, Dikson, Tiksi, Pevek, Anadyr, Petropavlovsk-Kamchatsky and Yuzhno-Sakhalinsk.
The 65 billion roubles (US$889 million), 12,650 Km project is being developed by the Ministry of Transport of the Russian Federation, the Federal Agency for Maritime and River Transport (Rosmorrechflot), and Federal State Unitary Enterprise (FSUE).
For its initial phase of construction, developers plan to deploy 150 Km of cabling every month, set to increase to 250 Km at full production. Works are scheduled to be completed by 2026.
FB, AMZN Trans-Pacific cable
Facebook and Amazon have jointly asked the US government for approval to operate a new undersea data cable – CAP-1 – between the Philippines and California with a design capacity of 108 terabits per second.
The move comes after China Mobile agreed to exit the plan as a direct consequence of former president Donald Trump's stance on Chinese infrastructure businesses activities concerning US projects.
Facebook and Amazon told the US Federal Communications Commission (FCC) they intent to start commercial operation by late 2022.
The 12,000 Km system is set to boost Facebook's social media platforms connectivity and aid in Amazon's AWS public cloud expansion.
Apricot
Alphabet Inc.'s Google and Facebook said the two will join forces to deploy a new subsea cable to link Japan and Southeast Asia.
Expected to become operation in 2024, the 12,000 Km system with a design capacity of over 190 terabits per second will connect Japan, Taiwan, Guam, the Philippines, Indonesia and Singapore.
Bikash Koley, VP and head of Google Global Networking and Head of Technology and Strategy at Google Cloud for Telecommunications, said in a blog: "Together [the Apricot cable and the 15,000 Km Echo cable announced last March] will provide businesses and start-ups in Asia with lower latency, more bandwidth, and increased resilience in their connectivity between Southeast Asia, North Asia and the United States."
Additionally, Pangilinan-led PLDT Inc has also announced it will be investing $80 million (₱3.9 billion) into the Apricot system.
PLDT and Smart Communications President and CEO Alfredo S. Panlilio, said: "The construction of this APRICOT cable system is vital to the Philippine economy with rapidly increasing data traffic and is aligned with our efforts to make the Philippines a strategic data centre hub in the region."
2Africa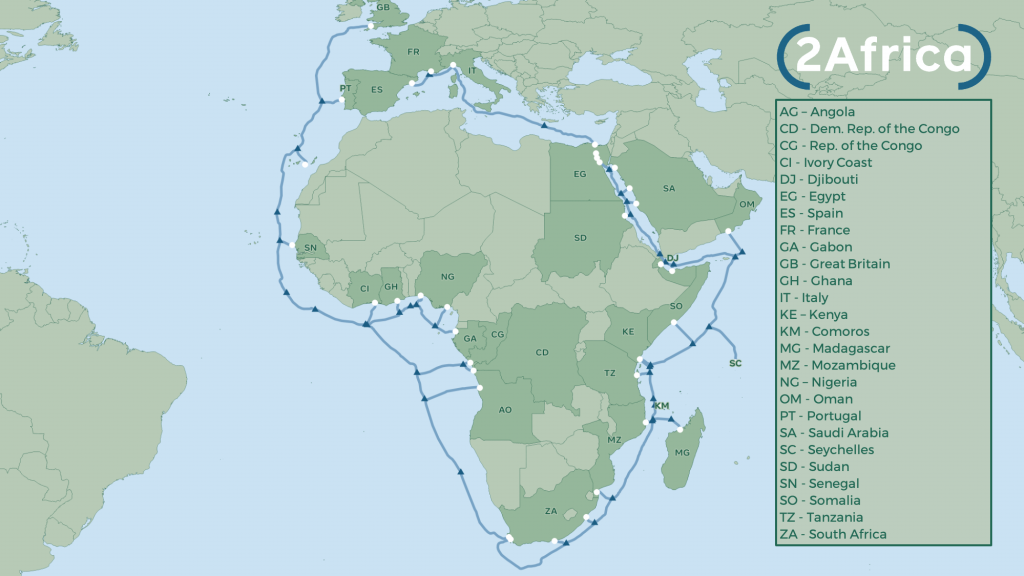 The 2Africa consortium, comprised of China Mobile International, Facebook, MTN GlobalConnect, Orange, stc, Telecom Egypt, Vodafone and WIOCC, have announced the addition of four new branches to the 2Africa cable.
The branches will extend 2Africa's connectivity to the Seychelles, the Comoros Islands, and Angola, and bring a new landing to south-east Nigeria. The new branches join the recently announced extension to the Canary Islands.
Alcatel Submarine Networks (ASN) has been selected to deploy the new branches, which will increase the number of 2Africa landings to 35 in 26 countries 2Africa will be the largest subsea cable project in the world at 37,000 Km.
Darwin-Jakarta-Singapore Cable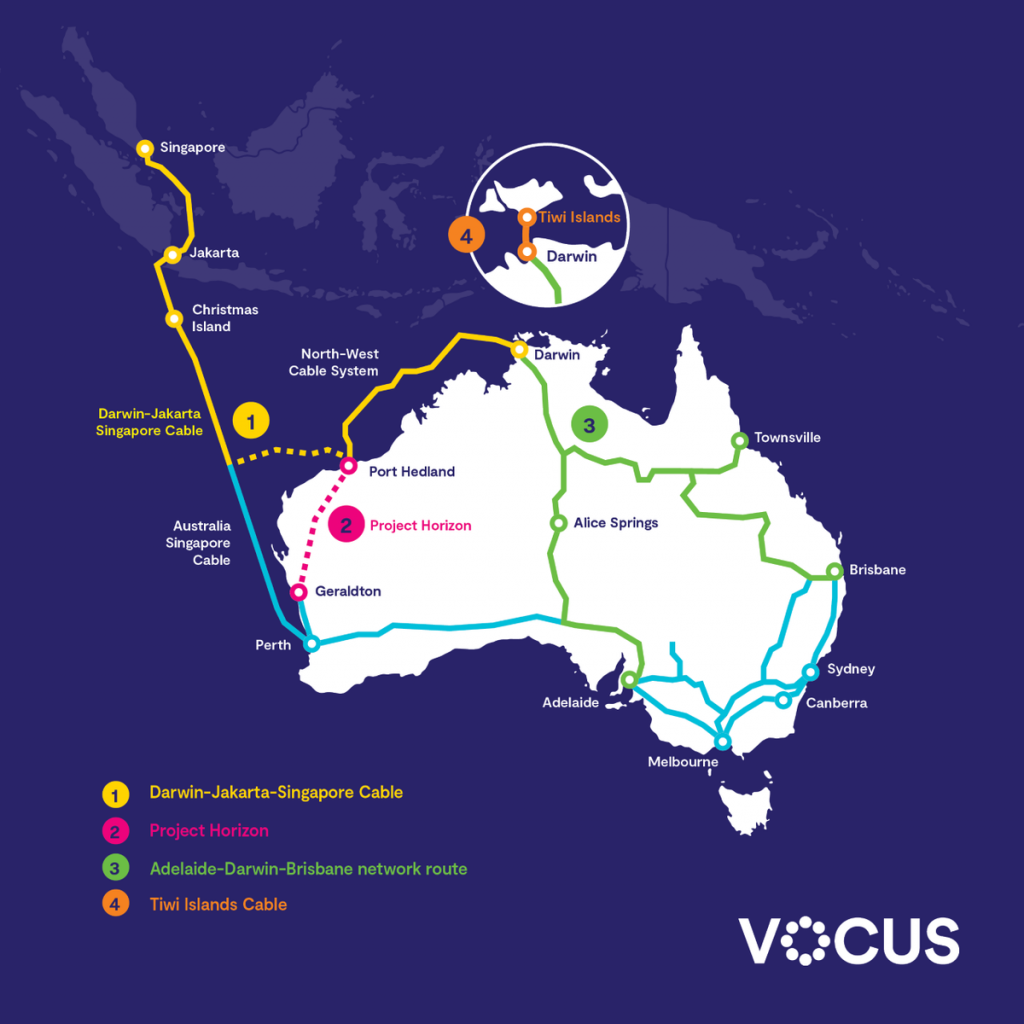 Australia's telco Vocus has landed a A$100 million (US$73.3 million) contract to build 1,000 Km long subsea cable linking the Australia Singapore Cable (ASC) to the North West Cable System (NWCS) in Port Hedland.
The extension is the final piece of the Darwin-Jakarta-Singapore Cable (DJSC), a A$500 million (US$366 million) system of high-capacity cables connecting Perth, Darwin, Port Hedland, Christmas Island, Indonesia, and Singapore.
The DJSC will deliver 40Tbps of internet capacity between Australia and Asia and will interconnect with the 4,600km ASC between Perth and Singapore and the 2,100km NWCS between Port Hedland and Darwin, with the completed system expected to be online by mid-2023.
Vocus Group Managing Director and CEO Kevin Russell, said: "We have delivered Terabit Territory – a 25-times increase in capacity into Darwin. We've delivered a submarine cable from Darwin to the Tiwi Islands. We're progressing Project Horizon – a new 2,000km fibre connection from Perth to Port Hedland and onto Darwin. And today we've announced the Darwin-Jakarta-Singapore Cable, the first international submarine connection into Darwin."
Listen to this article
Keywords