Latest
The facility has been launched by MEEZA QSTP LLC, a Qatar Foundation joint venture, as the company celebrates its 13th operational anniversary.
Founder and Editor, The Tech Capital
November 29, 2021 | 3:00 AM GMT
Microsoft (NASDAQ: MSFT) has enhanced its Middle East presence with the opening of a new data centre built to host the public cloud's operations that serve Qatar and surrounding nations.
The data centre has been built and is managed by Doha-based MEEZA QSTP LLC, a Qatar Foundation joint venture, which is investing in its infrastructure to support the Qatar National Vision 2030 designed to make the kingdom a digital hub.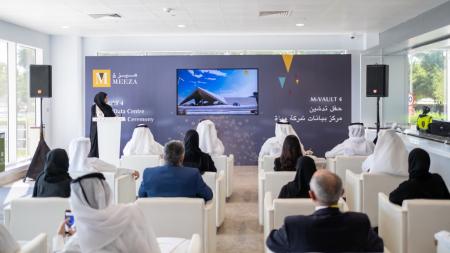 Named M-VAULT 4, the building was opened this Sunday, November 28, by His Excellency Mohammed bin Ali Al-Mannai, Minister of Communications and Information Technology, Sheikh Hamad bin Abdulla Al-Thani, Chairman of the Board of Directors of MEEZA and Chief Executive Officer of Vodafone Qatar, and Lana Khalaf, the Microsoft Qatar Country Manager.
Al-Mannai said: "We are pleased to launch the M-VAULT 4 data centre. I would like to extend my sincere thanks to MEEZA for their efforts in bringing this data centre building to completion, which will contribute to providing more cloud hosting services and is considered a new important milestone in Qatar Azure Region journey that we have embarked on in partnership with Microsoft.
"Also pleased to see the tremendous progress since the announcement, and we can confidently say we are in the last mile of execution. Organizations in Qatar and region will soon be able to benefit from the innovative solutions provided by Qatar Azure cloud region, that keep pace with the development of the era and drive growth".
Also commenting, Ahmad Abdulla AL-Muslemani, Chief Executive Officer of MEEZA, added: "The new building is an outstanding milestone to be added to our accomplishments, especially in that its implementation and delivery has been achieved as per initial plans despite the great challenges posed by the Coronavirus pandemic.
"This building will contribute to strengthening our technological infrastructure that is necessary to enhance the level of cloud services in Qatar and compete with a global market".
Lana Khalaf, Country Manager at Microsoft Qatar, commented: "Congratulations to MEEZA on this important milestone and exemplary execution towards Qatar Azure region. We are proud to partner with the State of Qatar and the Ministry of Communications and Information Technology to bring the power of the Microsoft Cloud to customers in Qatar and the surrounding region in the most sustainable way.
"It is a further example of Microsoft's commitment to the economic growth and digital transformation of customers in the region by making Azure more readily available and help position Qatar as a digital hub for years to come."
Listen to this article
Keywords