Latest
Subsea cable is set to become the world's longest system and will be serving more than 3 billion people across 33 countries.
Founder and Editor, The Tech Capital
September 28, 2021 | 12:00 PM BST
The 2Africa consortium has announced the addition of a new segment – the 2Africa PEARLS branch – extending to the Arabian Gulf, Pakistan and into India.
The new branch will bring the total length of the 2Africa cable system to over 45,000 kilometres, making it the longest subsea cable system ever deployed.
The 2Africa consortium is made of China Mobile International, Facebook (NASDAQ: FB), MTN GlobalConnect, Orange, stc, Telecom Egypt, Vodafone and WIOCC.
The cable is now connecting three continents, Africa, Europe and Asia terrestrially through Egypt, 2Africa creates unique connectivity by adding vital landing locations in Oman (Barka), UAE (Abu Dhabi and Kalba), Qatar (Doha), Bahrain (Manamah), Kuwait (Kuwait), Iraq (Al-Faw), Pakistan (Karachi), India (Mumbai), and a fourth landing in Saudi Arabia (Al Khobar).
---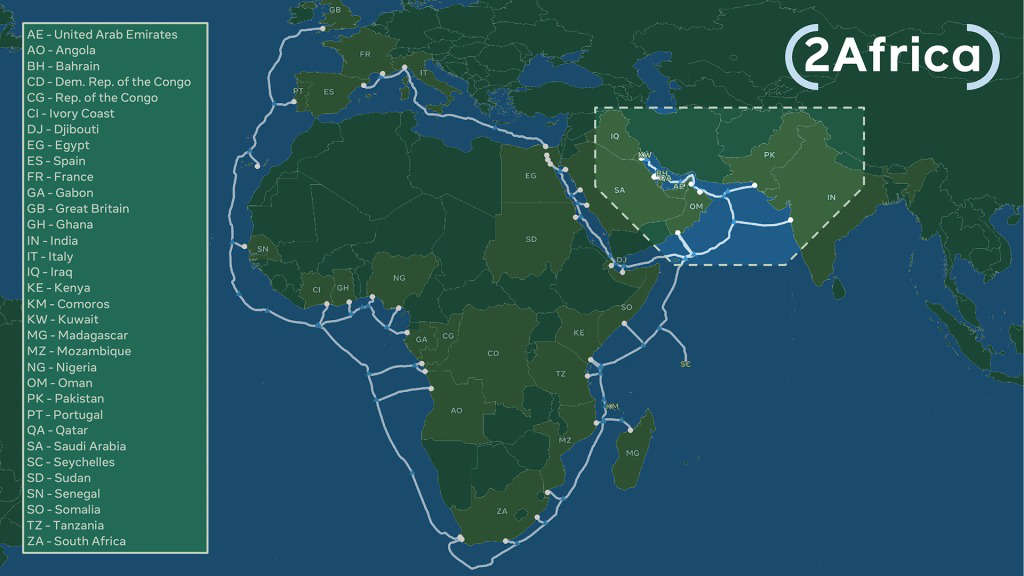 ---
The new 2Africa branch joins recently announced extensions to the Canary Islands, the Seychelles, Comoros Islands, Angola, and a new landing to south-east Nigeria.
As with other 2Africa cable landings, capacity will be available in PEARLS landings at carrier-neutral facilities or open-access cable landing stations on a fair and equitable basis, encouraging and supporting the development of a healthy internet ecosystem.
To further support a burgeoning global digital economy, the expanded system will serve an even wider range of communities that rely on the internet for services from education to healthcare, and businesses, providing economic and social benefits that come from increased connectivity.
As announced in May 2020, 2Africa was planned to directly bring seamless international connectivity to 1.2 billion people.
Today, with 2Africa PEARLS, 2Africa will be providing international connectivity to an additional 1.8 billion people, covering a total of 3 billion people, representing 36% of the global population.
Alcatel Submarine Networks (ASN) will deploy the new system utilising technologies such as SDM that allow the deployment of up to 16 fiber pairs.
Kevin Salvadori, director of network investments at Facebook, said: "The past 18 months have highlighted the importance of connectivity as billions of people around the world rely on the internet to work, attend school, and stay connected to people they care about.
"We continue to invest in subsea cables in Africa and beyond as communities and businesses flourish when there is widely-accessible internet. Facebook is continuing to build innovative solutions such as these critical fiber optic superhighways so that everyone can benefit from the economic, educational, and social advantages of a digitally connected world."
Listen to this article
Keywords