Latest
Multi-billion Dollar acquisition of E&I Engineering drives projection up by $90 million and could make 2021 an historic year for the company's books.
Founder and Editor, The Tech Capital
October 28, 2021 | 1:00 AM BST
Ohio-based Vertiv Holdings Co (NYSE: VRT) has updated its full-year (FY) performance guidance, with revenues for 2021 expected to top US$5 billion, according to its latest financial results related to the third quarter of the year.
If reached, this will be the first time Vertiv has crossed the $5 billion revenue barrier after it logged in $4.37 billion in 2020 and $4.43 billion the previous year.
The new guidance for FY21 takes into account the impact of the acquisition of E&I Engineering Ireland Limited and its affiliate, Powerbar Gulf LLC, for approximately $1.8 billion in upfront consideration plus the potential for up to $200 million in cash, based on achieving certain 2022 profit milestones. The merger, which was Vertiv's first acquisition as a public company, is expected to close no later than November 1, 2021.
---

---
In addition, Vertiv has signed a definitive agreement to divest its heavy industrial UPS business. This business focuses mainly on upstream oil and gas markets and "is not synergistic to Vertiv's strategy", according to the company.
The business being divested has annual revenue of approximately $80 million. Vertiv expects to complete the divestiture in the fourth quarter 2021.
Dave Cote, Vertiv's Executive Chairman, said: "Investments in new products, service offerings, the Vertiv Operating System and inorganic growth opportunities accelerate our ability to create value. We acted on that commitment during the third quarter when we announced the acquisition of E+I Engineering.
The transaction will round out our portfolio of in-building power train offerings for data centres and vital commercial and industrial markets. The combination amplifies Vertiv's growth opportunities and profitability while enabling us to deliver solutions that manage a customer's entire power infrastructure as an integrated system."
Q3 Results
Elsewhere, the company's Q3 financial results showed next sales of $1,229 million, an increase of $67 million, or 5.8%, compared with last year's third quarter and a 3.9% organic sales increase excluding the impact of foreign currency.
EMEA net sales increased 18.7% and were up 17.8% organically, with continued strength in colocation data center projects. APAC net sales increased 4.0% and were down 0.4% organically, with positive impacts from COVID-19 recovery in India offset by elevated 5G and wind power investments in China in third quarter 2020, which created a challenging year-over-year comparison.
Americas net sales increased 1.0% and were up 0.6% organically, with strong service sales offset by constrained product sales impacted by supply chain challenges. Orders in the third quarter increased 17.2% compared with the prior year quarter, and Vertiv's backlog reached a record level $2.4 billion at the end of September, increasing 34% from the end of 2020.
Third-quarter operating profit of $82 million increased $47 million and adjusted operating profit of $131 million increased $64 million from the prior-year quarter.
Adjusted operating profit improvement was influenced by a one-time $80 million charge for a restructuring reserve and asset impairments recorded in third quarter 2020. The remaining $16 million reduction in adjusted operating profit was primarily driven by a $40 million year-over-year headwind from net material and freight inflation offset by $15 million net fixed cost reductions and a $10 million flowthrough benefit from higher organic sales.
---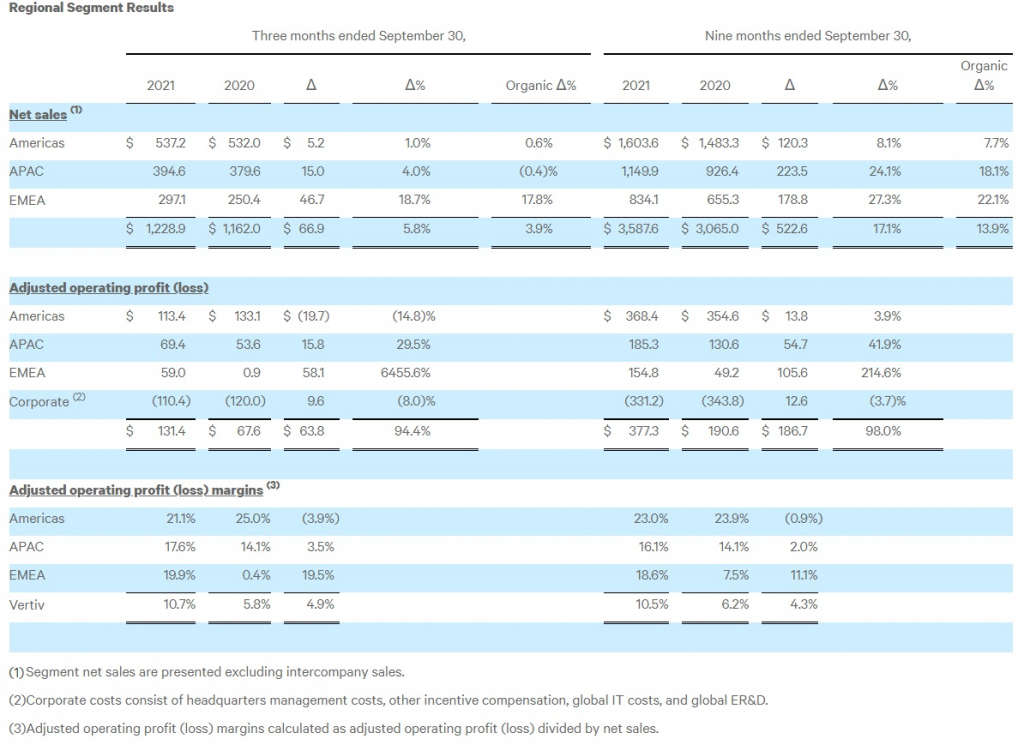 ---
The company said that supply chain issues have continued to accelerate in the third quarter and no improvement is expected in the fourth quarter, although pricing response continues to "meaningfully increase sequentially each quarter", and Vertiv anticipates another sequential increase in the fourth quarter.
Cost containment actions have been accelerated heading into the fourth quarter to mitigate impacts from increased supply chain disruptions, it said in its report.
Rob Johnson, Vertiv's Chief Executive Officer. "Despite the challenges, affecting virtually every sector of global business, we navigated our way through the quarter based upon the focus and persistence of our procurement organisation that has strong relationships with suppliers and transportation providers that help to enable our success.
"Ultimately, the disruptions to our supply chain will pass, and we will be a stronger company in the long term because of our current efforts. On the inflation front, we continue to effectively balance appropriate pricing actions with a sharp focus on cost reductions. We will remain nimble and take the necessary actions to ensure that we continue to support our customers during this strong demand environment."
Listen to this article
Keywords